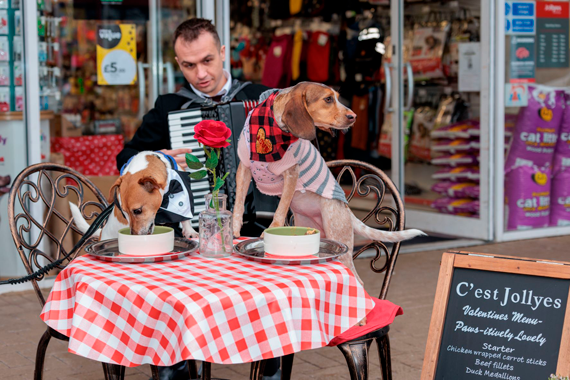 Dogs and their owners queued up outside Jollyes store in Runcorn, Cheshire this morning for a blind date at "C'est Jollyes" – an in-store doggy diner created for Valentine's Day.
At C'est Jollyes, dogs enjoyed a three-course dinner featuring a menu from Jollyes Lifestage range including angus beef with sweet potato, venison and salmon, and duck with sweet potato, while being serenaded with Parisian love songs by a street accordionist.
First to the table was Maisie, a beagle from Liverpool owned by Alix Johnson who shared her first date with Odie, a Jack Russell owned by Jollyes' store manager of the year Lynsey Fearns.
Phil Turner-Naylor, Jollyes head of marketing, said: "While music may be the food of love, for a Jollyes dog, there's nothing quite like a bowl of Lifestage treats and good rendition of a Bach melody."
Owners taking their dog into any Jollyes store today (Monday February 14, 2022) can claim a free sample of the company's Lifestage range.