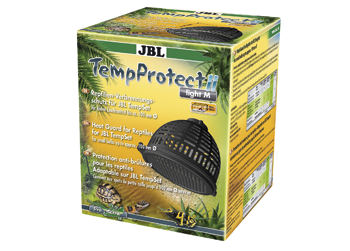 JBL TempProtect light was developed to protect terrarium animals from burns on hot lamps.
The heat-resistant plastic protection screen can be attached to JBL TerraTemp sockets with the help of a bayonet and is easy to install in just a few seconds.
A spokesman said: "Some very strong terrarium owners found they had broken the mount of the bayonet, so JBL has now found a remedy by reinforcing the material of the mount. The socket has also been slightly modified so that now the socket contact is safe for all kinds of light sources."
The new protection screen generation is easily recognisable by the "II" in its name, JBL TempProtect II light.