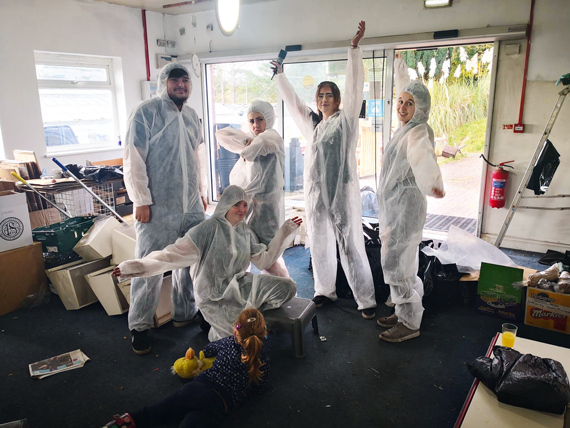 Pet shop staff have been 'blown away' by the generosity and support of their community following a fire in which a large number of their livestock died from smoke inhalation.
The fire broke out in the animal and fish room of the Isle of Wight Pet Centre, in Newport, in early November. Though the fire service put out the blaze quickly, all the birds and a number of other animals could not be saved. To the horror of staff – and many island residents – shop mascot Brolly, an umbrella cockatoo, was among the casualties.
At 48 years old, Brolly had lived for decades on the island, initially at a garden centre and then within the shop. When current owner Paul Collins took over more than 25 years ago, Brolly was already a firm fixture. "That was the hardest," said shop staff member Amy Brewer.
"People would come in on a Saturday just to see him – they would bring their children in, but knew Brolly when they were children themselves."
To keep his memory alive, a local artist is painting a mural of Brolly along with some of the other creatures that died, including Gary the day gecko, for the front of the shop counter. "Many of the kids say how much they miss him," added Amy. "It was devastating to lose him. We will never find another Brolly – a lot of people think of the shop as 'Brolly's shop'."
SURVIVORS
After the fire, staff were only allowed to re-enter the premises early the next morning. "That was emotional, to see all the dead animals and try and find any live ones," said Amy.
They were heartened to find a number of survivors in the small animals, fish and reptiles. "We had 15 baby rats, about two weeks old who had just opened their eyes, literally feet from where the fire broke out. All survived. That was the best," she said.
A number of fish tanks had cracked or the tops had melted, yet in one system, in the blackened, polluted water of about an inch, the fish were still alive. "They were fine and are now living with me," said Amy. And survival stories kept coming. "This kept us going."
A week later, everyone was amazed when a leopard gecko made a dash for freedom – it, too, has made a full recovery.
RALLYING AROUND
Smoke and heat damage meant all food and dry goods (it was fully stocked for Christmas) in the front room were written off.
The damage was so extensive that even the shelving units needed replacing. "Our priority was to re-open as quickly as possible, so we focussed our energy on the front room," said Amy.
Offers of help flooded in: a vet checked all survivors for free; customers brought in cages, food and vivariums to house the survivors; a customer started a Gofundme page to raise a couple of hundred pounds and ended up totalling more than £3,000; and a local bar and restaurant as well as a residential home organised fundraisers. "We had people who would come in on their day off and spend the day painting the shop. It's been amazing; truly incredible. The Isle of Wight is a really lovely community," she said.
The shop officially re-opened from the front room on January 2, and it is hoped refurbishment of the main room will be complete within two months.
Determined to see something positive, staff have introduced new lines such as natural treats and food and brought in raw pet food. They've also introduced a new colour scheme, blue and yellow, to match the shop's logo.
The best part, however, says Amy, was bringing birds back in for sale.