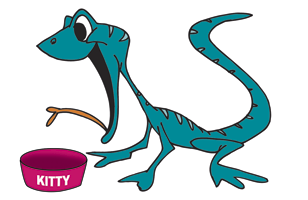 A family found a hungry giant lizard in their kitchen.
Lewis Khan, a PR manager from Sydney, Australia, said he had no idea what was happening when his children Elliot, 14, and Maia, 11, frantically called him into the kitchen, where he came face-to-face with a giant goanna – a relative of the Komodo dragon – casually chowing down their cats' kibble.
Lewis said: "We live at the end of a cul-de-sac and we're surrounded by some bushland.
"We've seen kangaroos, wallabies and possums before but nothing this big.
"We usually leave our back door open to let fresh air in and to let the cats out.
"It certainly enjoyed the kibble though, it couldn't get enough.
"Our cats were not impressed at all that this giant lizard polished off all their food."
Lewis now believes the reptile could have been inside his home multiple times without his family realising, because he says the cats' bowls are always licked clean and the lizard seemed 'strangely familiar'
with his home, reports the Daily Mail.
He added that his children managed to get the goanna out of the house safely after gently nudging it with a broom.