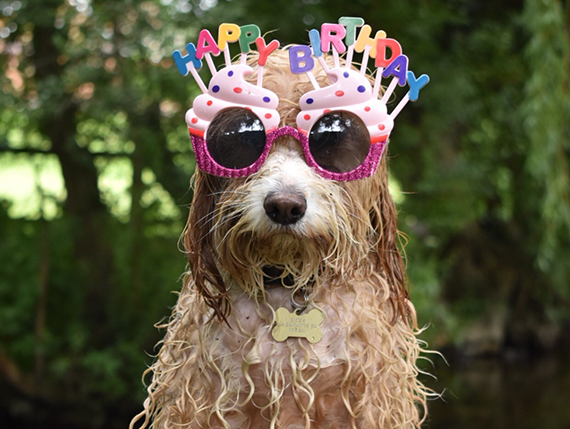 Half of dog owners spend more on birthday presents for their four-legged friend than their own partner, according to new research.
The nationwide poll found that a staggering seven in 10 (70%) of  dog owners celebrate their canine companions' birthday every single year.
Twenty-two per cent of the owners polled stated their pet's birthday was one of their favourite days of the year, while 24% claimed it had become even more special since lockdown.
The study by Forthglade natural pet food found the average British dog owner splashed out £62 on their canine's birthday this year, with 50% not ashamed to admit that they always spent more on their dog than their partner's birthday.
A further 28% admit that, although they don't spend more on their dog's birthday, secretly they would love to indulge them. Little wonder then that three-quarters (73%) claim their canine companion is their 'soulmate'.
RED CARPET
And when it comes to who spends the most on their pet's birthdays, under 30s really roll out the red carpet, splashing £70 on their hound. This compares with the over 60s, who spend just £19 on their four-legged friend.
More than half (54%) of the nation's canine companions will receive new toys for their birthday this year, while 39% will sit down to enjoy a gourmet meal, either handmade by their owner or bought in, especially. A third (33%) of dogs will receive a new collar, 29% will start the day with a deluxe birthday breakfast, 31% will listen to their owner sing 'happy birthday' to them, and 27% will tuck into a dog-friendly birthday cake.
Eighteen per cent of dogs will receive a birthday card on their special day this year, while two in five (40%) will be taken on an extra-long walk as a special treat. And later in the evening, 44% will enjoy extra cuddles on the sofa, before settling down to watch a favourite dog themed film such as 'Lassie' or '101 Dalmatians' (11%)!
The research found that if lockdown restrictions are lifted, more than one in 10 (13%) of canines will be taken to meet their dog pals in the local park for a birthday walk. And the study found that 53% of owners admit they dream about one day hosting a lavish party for their dog and its four-legged friends – if money were no object.
MILESTONES
To celebrate doggy milestones across the country and 50 years of making natural recipes for canine companions, Forthglade has launched a Limited-Edition Sardines & haddock, potato and broccoli birthday meal.
Joint managing director of Forthglade Gerard Lovell said: "It's no surprise to hear people enjoy making their dogs feel extra special, especially during a year where relationships with our beloved dogs have proven so valuable and appreciated by so many.
"We hope our limited-edition birthday recipe will be the icing on the cake for many dogs enjoying extra TLC. Making this special meal seemed the perfect way to recognise our 50-year history making natural dog food for the nation's canine companions."