Vet Simon Lyddon has set off on an epic 3,000-mile row across the Atlantic to raise money for a cancer Vetcharity.
Simon, who runs IVC Evidensia practice Vine Tree Vets in Ross-on-Wye, Herefordshire, will spend more than five weeks on the marathon voyage from the Canary Isles to Antigua.
He is raising money for Macmillan after suffering a devastating double cancer blow to his family.
"The first week is well known to be the toughest as we settle into life on board," said Simon, 44, just before leaving from Tenerife on March 22.
"We have to adjust to the sleep patterns, cooking, boat maintenance and, of course, hours upon hours of rowing.
"Learning to work together, support each other and manage ourselves in this challenge is critical."
Each of the 12-strong crew of the 12-metre-long Roxy will row more than 1.5 million strokes and burn over 5,000 calories a day during the 35- to 40-day crossing.
Travel restrictions delayed dad-of-two Simon's departure to Tenerife and he had to put in extra-long hours on a rowing machine between seeing patients at the busy practice he set up in 2015.
The past week has been spent completing crucial sea survival training and he has also been learning about the purpose-built boat and his fellow rowers, who are aged between 18 and 60.
"I have got to know the crew so well in just a short time," said Simon, who lost his dad Peter to prostate cancer before learning that wife Mel had breast cancer.
"We all have our reasons for being here and the openness with which we have bared our souls has brought us so close as a team.
"I have no doubt we will be all be lifelong friends after this journey and hopefully we will have some amazing experiences to share."
Mel, who is doing well, was treated at the Macmillan Renton Unit at Hereford County Hospital and Simon is undertaking the challenge to raise funds for Macmillan. He has been backed by IVC Evidensia whose donation towards his sponsorship costs will allow all funds raised to go to the charity.
Weather systems were closely monitored before the boat set off from Las Galletas marina on Monday and Simon is hoping to avoid dangerous conditions on the epic adventure.
"I look forward to sharing our journey with everyone but most of all I'll be looking forward to a nice rum punch in Falmouth harbour in Antigua," added Simon.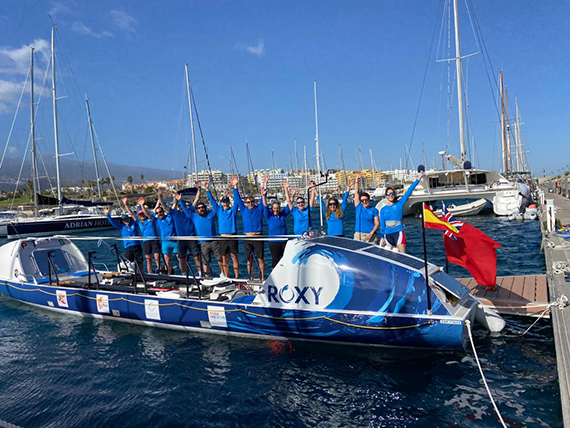 Simon Lyddon (3rd from left) prepares to set off from Tenerife