The Online Pet Industry Report looks at how pet retailers are faring online and says visibility and ranking are essential considerations 
A new report reveals how the top pet retailers are performing online.
The '2019 Online Pet Industry Report' from Salience looks at brand rankings and visibility, which affect how easily they are found online. The top two retailers have stayed in their place, despite visibility changes, with Pets At Home well in the lead.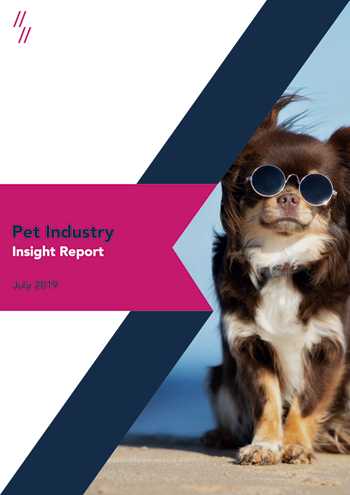 The 2019 Online Pet Industry Report from Salience
In the top 20 though, it is the aquatic retailers that have seen the biggest increases in visibility over the year.
Buckinghamshire-based Real Aquatics, for example, has seen a visibility increase of 758%, enabling it to jump up 21 places in the rankings.
Visibility and ranking affect how easily a site is seen when keywords are entered. As people are unlikely to scroll through pages of search results, being higher up means the site is likely to be seen.
The internet is often the first port of call for research, so having good rankings and visibility puts the brand in front of potential customers. In this digital age, having a healthy online presence is vital to marketing.
Sites that have grown in SEO visibility over the year include omlet.co.uk, viovet.co.uk and zooplus.co.uk. Despite its market leadership, petsathome.com has lost visibility, as has fetch.co.uk
Salience content director Brett Janes said: "Omlet are also doing incredibly this year. Being around since 2004, they're no spring chicken, in a digital sense at least, but this year's growth into the top three must have Pets at Home and Zooplus slightly worried. Big growth is harder the higher you get in the rank, so 119% improvement is no mean feat."
WHAT IT'S ALL ABOUT?
Salience says its market performance report helps pet suppliers to better understand their place in the market, seeing how they perform compared with competitors in their digital landscape.
The analysis ranks them based on performance areas for individual brands, which means a brand could be topping the chart for SEO visibility but sit lower down the rankings for brand reach and social scores.
Salience publishes only the highest-performing websites to give a topline view of the sector, but its research spans the whole market so information is available on businesses lower down.
WINNERS AND LOSERS
Organic visibility is one of the most important metrics to look at when informing on SEO performance.
Pets at Home remained the market leader but lost 28% of its visibility year on year. Salience says the retailer is still miles ahead of anyone else in this field in terms of visibility, but warns that it 'should be careful as other retailers are stepping up their game and will soon overtake them if they aren't careful'.
Brett said: "I'm worried for Pets at Home. Their online visibility has been on a shallow but sure decline since July 2017. Conjecture, your honour, but the lack of onsite content and structured data – staples of modern search marketing – makes me wonder if they're overly reliant on brick-and-mortar stores."
Zooplus has had a much better year, increasing its visibility by 28%, and next up is Omlet, who has more than doubled its visibility year on year with a massive 119% improvement. Viovet has also had a successful year, improving its visibility by 59%, and making up the top five is AllPondSolutions, which has had 'a fantastic' 117% increase in visibility.
Brett said that, as with all industries in the ecommerce world, visibility within the pet industry was seriously shaken by Google's March 2019 Core Update.
"One that stands out to me is All Pond Solutions," he said. "This site dominated the market in late 2017, but lost around 50% of its visibility in 2018, again at the hands of an earlier Google update.
"March saw a partial return to glory for the brand, but its relatively stable performance over recent months means it is likely to remain a big fish in the market."
According to Salience, the rest of the top 10 has seen both wins and losses: Jollyes (+57%), SwellUK (+33%), Fetch (-41%), VetUK (+21%) and Pet Supermarket (-27%).
The report also reveals 'massive improvements' for World of Water (+123%), Real Aquatics (+758%) and Doggie Solutions (+101%), all of which have moved into the top 20 this year.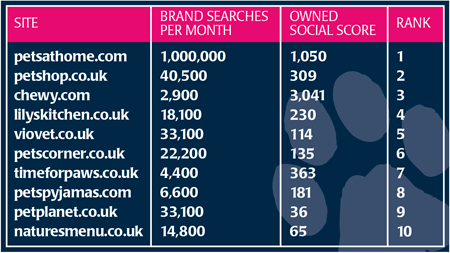 BRAND SEARCH SCORE:  Salience combined brand search volume with a score representing the effectiveness of content performance across social media channels to rank how much 'umph' a brand has online
KEYWORD OPPORTUNITIES
The report features a list of top 'competition' and 'best opportunity' keywords, which tend to be longer 'tail' keywords, or keywords that serve a particular niche.
Pets at Home is again in top spot for the highest competition keyword, 'fish tank', and is within the top three for almost all the top competition keywords.
Despite being 45th in Salience's table for overall visibility, Natural Instinct is in the No.1 spot for the highest opportunity keyword, 'raw dog food', suggesting it is  'clearly serving its niche well' and going after the right intent-based keywords.
EDUCATING OWNERS
It's not all about products though, with the RSPCA ranking in the top three for the term 'dog crate' with its 'Choosing the right dog crate' guide. This suggests there must be a need for knowledge in this area.
The term 'dog drying coats' has a featured snippet which has been won by Ruff and Tumble Dog Coats, which is also in position one and two for these terms.
Getting a featured snippet is another way of getting to the top of the page if you're ranking below the top five.
LOCAL PET LOVERS
Location is key as some high competition keywords contain 'near me'.
Google's Venice update in 2012 means that the search engine now takes a user's location into consideration when providing search results, populating results that appear relevant to location and query.
Implementing map packs SCHEMA markup on your site can help you rank for localised terms as it tells Google which areas you have stores in. This can be a way to get onto page one even if you don't rank organically for a search term.
SOCIAL  MEDIA
Social media is one of the biggest platforms to promote a brand, its ethics and show customers what you're all about.
Pets at Home is top of the social charts with the highest number of brand searches and high-owned social score.
Salience says It's clear to see why when you look through its social feeds:
> It posts regular competitions that encourage users to share their pet pictures, prompting people to like and share
> It shouts about its charity work, showing it in a good light
> It posts topical content, such as information about summer safety for pets
> It posts Instagram posts, which are customer pet pictures with its own items highlighted and the hashtag #MyPetLoves
PAGE SPEED
Visiting a site that has poor page speed can be frustrating – and can damage SEO performance as Google will waste time crawling your slow pages when it could be doing much more on your site. Page Speed is an important ranking factor.
The top five retailers for page speed, which Salience tested using Google PageSpeed Insights, were dfordog.co.uk, warringtonpetsandexotics.com, feedem.co.uk, omlet.co.uk and exotic-pets.co.uk
> You can find the report at https:// salience.co.uk/insight/reports/pet-supplies-market-performance-report/