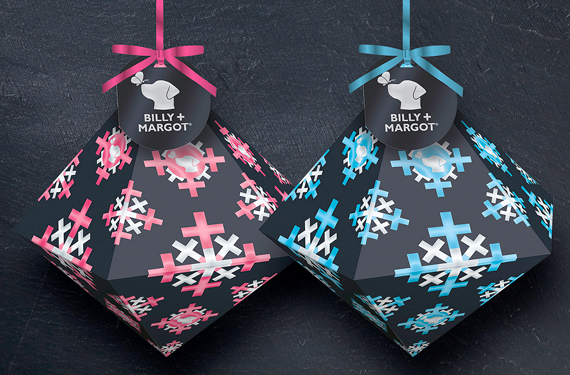 Billy + Margot has created his and hers bauble treats for dogs this Christmas.
The baubles – designed to be hung on Christmas trees – come in two flavours, with each containing either a packet of air-dried pheasant or air-dried venison. The packaging is in the shape of a black diamond, with a pink or blue snowflake design, attached with a matching ribbon.
Helen Ellwood, head of commercial sales and marketing, said: "At Billy + Margot we believe treats play an important role in helping nurture the special bond between dogs and their owners. We also believe that giving a dog a treat shouldn't have to compromise his or her overall health or nutrition.
"We're offering these carefully-crafted, grain-free dog treats for Christmas, which are not only designed to promote the connection between pet parents and their dog, but also help them reward their dog for positive behaviour and avoid the temptation of feeding unhealthy Christmas snacks."
The Christmas baubles have RRPs of £4.99 (venison) and £5.99 (pheasant).
Billy + Margot is part of the international pet food group trading as the Real Pet Food Company in all markets outside of the UK. In addition to its UK business, the group has operations in Australia, New Zealand, the US and China.