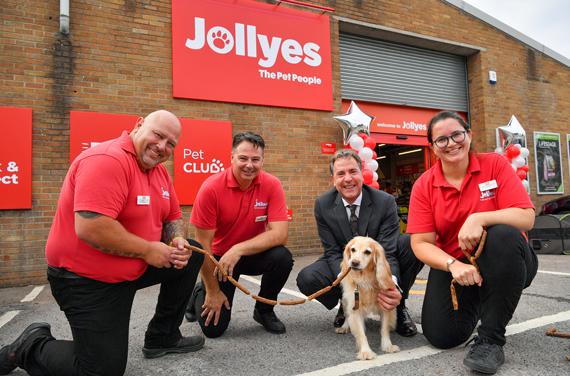 Jollyes' latest store in Warmley, Bristol had a special guest of honour when Angel – 'the First Dog of the West of England' – performed the official opening.
Angel was accompanied by owner Dan Norris, Mayor for the West of England, for the ceremony at the new store, following its relocation from Longwell Green.
Jollyes' invited Angel to open the store and received a reply from the clever canine saying he'd be barking mad to miss it!
The relocation from Longwell Green to Warmley is part of a £500,000 investment by Jollyes in the Bristol area.
Subject to planning permission, the retail chain will also open a new store in Brislington, Bristol in December, and in January it will relocate its store at Cadbury Garden Centre in Congresbury to a new unit in the centre.
The expansion in Bristol is the first stage of plans to accelerate Jollyes' plans to open up to 20 new stores over the next 18 months.