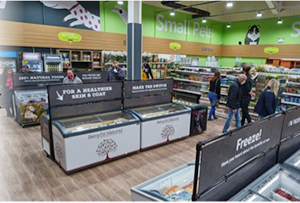 Specialist pet retailer Just for Pets has been delighted by the response to its 'Best of British' pledge that promotes innovation within its stores.
The pledge ensures that smaller brands stocked by the chain are paid up front for items, as well as giving a guaranteed listing on its new website for 12 months.
The Just For Pets group has 18 stores across the country and was acquired by Pedigree Wholesale in October 2017.
Leanne Blunn, of the Just for Pets buying team, said: "We're already in on-going talks with a number of new brands. We've been surprised by the number of businesses that have been in touch and the number of innovative products being produced by smaller companies."
The idea of the pledge is that Just for Pets customers will have access to all the latest trends for their pets with new and exciting products in store at every visit. The company says it has always enjoyed working with quality British suppliers. Some of the brands already benefiting from the initiative, including additional POS display in store, are:
> Catipilla – luxury cat furniture featured in store at JFP Stafford, with a product wall display.
> Wilsons Raw and Cold Pressed – the Wilsons range is based in Scotland and is one of the longest-established pet food manufacturers.
> Doggy Doggy Yum Yum – family-owned company based in Dorset and providing 100% organic, dairy-free, vegan iced treats for dogs packed in a recyclable tub – perfect for the JFP desserts freezer.
> Skippers – ethically sourced fishy dog treats from Grimsby, established by former fish merchant Steve Moore.