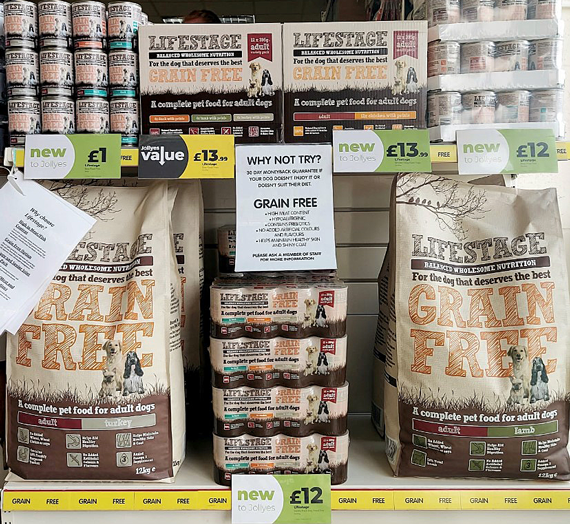 The boom in dog ownership during lockdown has seen a surge in demand for premium dog food, according to nationwide pet store, Jollyes.
It has coincided with the trend for 'pet humanisation' that sees dogs treated as members of the family and premiumisation that has seen owners choose high quality foods, the retailer says.
Jollyes has relaunched its range of dog food under its own Lifestage brand, including a new range of premium canned food..
The new £1 cans come in three flavours: chicken with fruit and vegetables, turkey with fruit and vegetables and duck and chicken with fruit and vegetables.
To mark the launch, all Jollyes' 67 stores are taking part in a huge charity donation scheme, whereby customers are invited to buy a can of Lifestage to donate to a local animal charity nominated by their store.
And, despite reports of wet food shortages, Jollyes will then top up customer donations nationally by donating 10,000 tins to the Dogs On The Streets & Street Paws charities, which provides support across the UK for homeless people with dogs.
CANS AND TRAYS
The new Lifestage premium cans have been developed exclusively for Jollyes by its long-term supplier, Mackle Petfoods, which has been supplying Jollyes with wet food in cans and trays – including grain-free options – for many years.
As part of the relaunch, it has introduced variety packs of cans and trays.
All the products have gone through extensive taste testing.
Family-owned Mackle is based in County Armagh, Northern Ireland. All its meat is sourced from local suppliers where possible and is fully traceable to the farm of origin. The product has a high meat content and contains no artificial colours or flavours.
The fast-growing manufacturer employs more than 220 people and supplies food for pets as far afield as South Korea and North America. It celebrates its 50th anniversary next year.
TRUSTED SUPPLIER
Jollyes commercial director Chris Burns said: "The pandemic has shown how pets can be vital for their owner's well-being. In return, pet parents want to nurture their fur babies and are more aware than ever of the importance of a good nutritional diet.
"It's been great working with Mackle to develop the new range and our customers can be confident their pet food is of the highest quality from a trusted supplier in the British Isles."
Colin Ferguson, sales manager at Mackle Petfoods, said: "We've worked with Jollyes for a number of years and are delighted to have strengthened our relationship with them with the new Lifestage products.
"A lot of research has gone into developing the range and making sure it goes down well with our four-legged customers."
Jollyes' Lifestage grain-free puppy/junior dry food was given an 80% nutritional rating by website allaboutdogfood.co.uk. It calculated the cost of a 10kg bag at 89p per day.