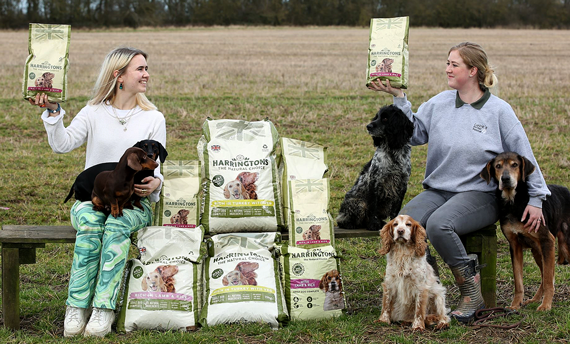 Left to right: Hannah Page, from IPN, and Lucie Holmes, from Lucie's Animal Rescue, in Thirsk
Pet food manufacturer Inspired Pet Nutrition's Miles & Meals initiative – launched at the end of 2020 through its Harringtons brand to boost both pets' and pet parents' physical and mental well-being while at the same time helping to feed animals in need – has already seen more than 570,000 meals given away..
Under the scheme, the Yorkshire-based business contributes one meal for every mile covered walking, running or cycling and to date some 7,000 people have already joined the programme and covered more than 570,000 miles.  This has resulted in the same number of meals being donated to a network of 50 pet charities and rescue centres across the UK as well as food banks and organisations such as the RSPCA.
Before the launch of Miles & Meals, IPN was already supplying free meals to help keep pets healthy during the pandemic and is confident of reaching a total of one million donated meals by the middle of the year.
Lauren Barker, centre manager at Jerry Green Dog Rescue (East Yorkshire branch), said: "At Jerry Green Dog Rescue we provide a safe place for homeless dogs and provide the highest standard of care until we can find them new homes.
"IPN and the meals they provide are vital as we receive limited Government and no lottery funding. The meals allow us to ensure dogs are fed on the same food for the duration of their stay, which reduces the stress on their digestive system. Also, as Harringtons is so readily available, adopters can continue to feed it to their dogs once they have gone home."
GRATEFUL
Lucie Holmes, from Lucie's Animal Rescue in North Yorkshire, added: "We are so grateful to IPN for their help during the recent pandemic and for their continued support. The number of dogs, cats and kittens we look after increased during the lockdowns and we have re-homed 207 kittens as well as over 40 dogs."
Hannah Page, at IPN, said: "This is an incredible achievement and the distance achieved so far is equivalent to about 23 times round the world.  Taking regular exercise is as important as ever and getting out and being active certainly helps people's mental and physical wellness.  As we would expect, pet parents have really risen to the challenge we set."
Miles & Meals is part of IPN's overall Positive Pawprint project with the aim of becoming the UK's most sustainable pet food manufacturer, having announced at the end of 2020 that it was the first pet food manufacturer to become carbon negative.