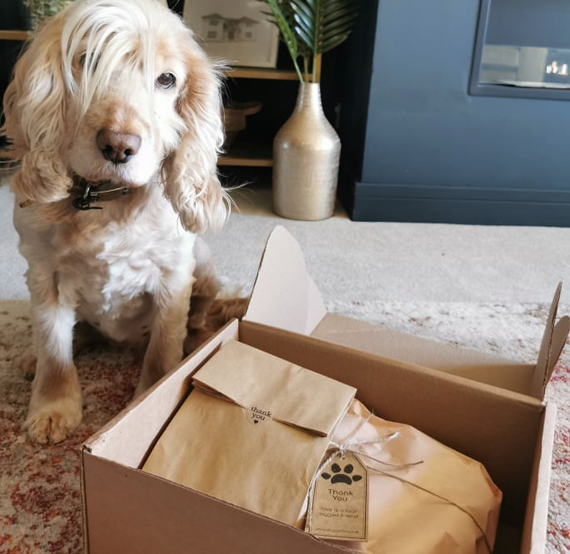 A Basingstoke couple started a natural dog treats business called Dogglebox, after finding that processed treats were making one of their own dogs unwell.
Gary and Danielle Clarkson used their knowledge and passion for finding quality, natural dog treats for their own pets to start the monthly subscription service delivering traditional dog treats to customers' homes.
Gary, who quit his IT sales director role to focus on Dogglebox, said: "This all started years ago when our German Shepherd, Ralph, had a sensitive stomach. I thought it was his food at first. But it turned out to be his treats that were causing the problem. I really struggled to find quality alternatives. Often treats were imported, didn't meet Defra standards and had long ingredient lists – half of which I didn't even recognise.
"When we finally found more natural and traditional treats, such as dehydrated rabbit ears, pig snouts and chicken feet, it made such a big difference to Ralph's health. But when we spoke to other dog owners, they assumed finding these sorts of treats would be hard work and expensive.
"We hope Dogglebox will take away the hassle in finding a variety of natural, healthy treats for dogs and provide good value for money, as well as improving the health and happiness of our four-legged friends."
Dogglebox offers a monthly subscription box of 100% natural, healthy dehydrated treats supplied by British farms. Each box contains around 20 treats, such as lamb's liver, natural beef dental sticks and venison sausages that owners can give whole to their dogs or chop up into smaller bite-size treats. The treats come wrapped in traditional peach-coloured butchers' paper tied with string and cost £21.99 a month, or 74p a day. Puppies get their own special box, and there is a Christmas hamper version too. All the treats have been taste-tested by the Clarkson's dogs.
Danielle, a qualified dog nutritionist, found that dogs' lifespans have dropped 9% in the last decade, with the average dog now living 10.4 years.
"A healthy diet can help dogs live longer and can also reduce problems such as sensitive stomachs and loose stools, bad breath, itchy skin and joint pain," she said.