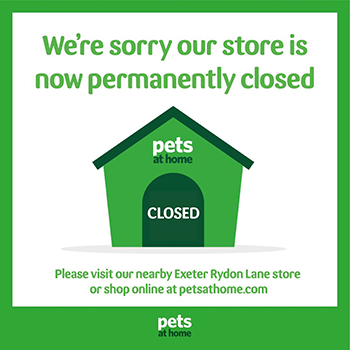 Retail chain Pets at Home has closed one of its stores in Exeter because it did not have a 'profitable trading future'.
The Marsh Barton site stopped trading on Friday (August 7) with the loss of a number of jobs. The company intends to keep its other Exeter store at Rydon Lane retail park open.
A spokesperson for Pets at Home said: "As we enter the period towards the end of our store lease agreements, we always review the viability of each store for the years ahead.
"Sometimes there are locations where we don't see that the store has a profitable trading future and, for that reason, regrettably we have taken the difficult decision to close our Exeter Marsh Barton store.
"On the rare occasion that we do decide to close a store, our main priority is always our colleagues.
"We are pleased to have been able to find alternative roles for the majority of the team."
Posting on social media, Exeter Pets at Home said: "We're really sorry but this store is now permanently closed. We want to say a big thank you to all of our loyal customers, and we hope to see you at our remaining Exeter Pets at Home store soon."
There was shock and sadness at the news with Little Valley Animal Shelter in Exeter reflecting the mood of customers. The charity said on Facebook: "We are ever so sad that our local Pets at Home is closing. We would like to thank the team so much for all their support and we will miss them very much."