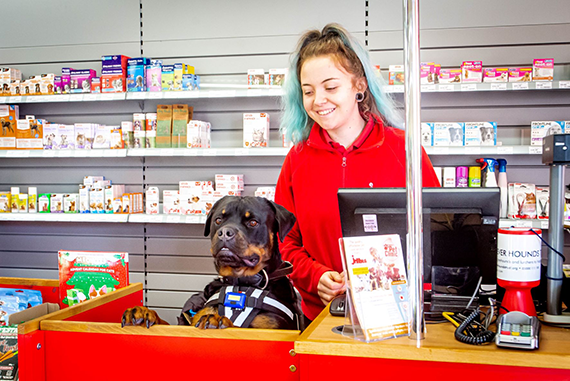 After experiencing significant growth over the past two years, nationwide pet retailer Jollyes is set to accelerate its growth plans, opening up to 20 new stores over the next 18 months and creating more than 150 jobs.
Jollyes is also planning new investment in its product ranges, marketing and staff to reinforce its position as 'The Pet People' through its team members, who it says can offer 'detailed advice on anything pet-related, from rabbits to reptiles'.
In its most recent quarter, which ended on Sunday (August 29), Jollyes delivered 21% like-for-like growth compared with the same period in 2019. All regions across the UK have seen double digit growth with a 'particularly exceptional' performance in Northern Ireland.
For the 12 months to May 2021, revenue increased by 13% to £77m compared with 2020, bolstered by as new 'lockdown' pet owners.
Over the course of the last year Jollyes has:
> Seen customer visits rise 13% as it introduced its PetCLUB scheme, driving loyalty and frequency of visits
> Invested in new private label ranges such as LifeStage
> Given stores in Maidstone, Eccles and Plymouth a make-over with clearer displays, better customer navigation and a refreshed brand that will set the tone for additional revamps in 2021
> Expanded into new services such as dog grooming through its growing network of Spas which can now be found in 14 of Jollyes' 67 stores and community vet clinics through partner CPC
> Overhauled its online presence at www.jollyes.co.uk to offer nationwide delivery on more than 4,000 key items, integrating with a full click-and-collect service through its store network
> Achieved five-star Trust Pilot ratings for 23 stores and an average 4.7 score across the whole of Jollyes.
With ambitious plans to build on this progress in the year ahead, Jollyes has also now added to its leadership team.
RECRUITS
Joining retail operations director Lucie Coleman and commercial director Chris Burns are two new recuits.
Joe Wykes has joined this month as chief operating officer after two years as COO of Bensons for Beds. Joe will bring significant experience across finance, logistics, property, legal, HR and distribution, gained in multi-site retail environments. He has also held senior roles in finance and operations in a number of private equity-backed businesses
Sean Norris who has been at Jollyes for two years, will become chief customer officer, building Jollyes e-commerce, CRM, technology and loyalty programmes. He will also take on responsibility for IT, business intelligence and marketing.
As part of Sean's team, Phil Turner-Naylor will be joining Jollyes as its new head of marketing. Phil has wide marketing experience both online and offline from previous roles at Sainsburys, Asda, Co-op and most recently as head of marketing at Ryman.
Richard Cotter, executive chairman of Jollyes, is delighted at the progress made at Britain's second-largest pet retailer.
PROGRESS
He said: "While remaining open throughout the pandemic to serve pet lovers has not been easy because of the added cost and complexity, our people have more than risen to the challenge, and we've enjoyed a very successful year with sensational progress.
"And we're excited about our future – we've worked hard to build a strong platform that will allow us to do much more – new and better stores, wider ranges and further investment in our people as we bring their passion for pets to more communities across the UK."
Jollyes saw increased sales of pets, food and accessories, including sales of popular birds such as canaries up 50% and sales of reptiles such as geckos up 14%. There was also a 10% rise in sales of wild bird seed as more people fed their garden birds.
In the year ahead, Jollyes expects to open new stores through both the targeted strategic acquisition of smaller pet retailers and taking on new leases across Great Britain and Northern Ireland.