Retailer Jollyes has launched an award scheme for its store managers to drive sales of poo bags.
The 'Poo Bag Champion' accolade will go to the manager of the store who sees the highest percentage increase in sales of poo bags until the scheme ends on June 20.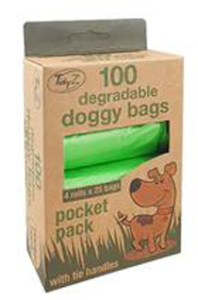 Prizes will go to what Jollyes describes as the "Number One and Number Two" store managers, and both winning stores will get 100 boxes of bags to donate to local community groups.
Jollyes range of poo bags includes Tidyz degradeable bags, which retail for £1 per pack of 100.
Jollyes commercial director Chris Burns said: "It's a big job, but we've set things in motion for our Poo Bag Champion award, and we wouldn't want this opportunity to keep our neighbourhoods clean to go to waste.
"Jollyes customers are responsible dog owners and this is just a bit of fun for our stores to remind them that we have a fantastic range of poo bags at amazing value so they can have one handy when they need to clean up after their mucky pups."