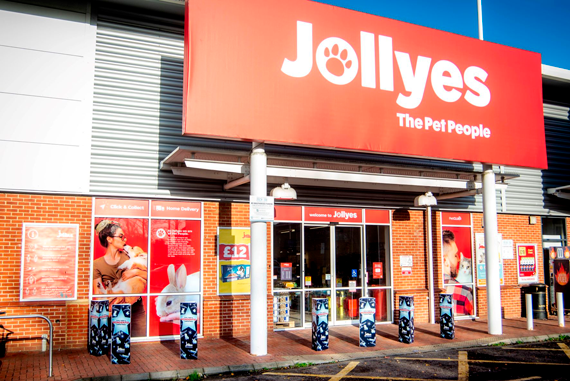 Footfall and sales at pet retailer Jollyes reached a record high in December, including its busiest ever Christmas Eve, the company reports.
December sales broke all company records, driven by a surge in demand for dog toys and dog treats.
The announcement came as the company reported its results for the half year to November 30, 2021. During the period, revenue increased to £42 million, a 12.5% rise in like-for-like sales against a year earlier and a 30% uplift on the same period in 2019.
During the six-month period, membership of Jollyes' PetCLUB rewards scheme rose by over 20% and sales of its exclusive Lifestage dog food rose by 60%, along with an acceleration in sales of frozen food raw feeding products. The top performing stores included Enniskillen, Skegness, Maidstone and Gloucester, which all achieved like-for-like growth of over 30%.
In the half-year, Jollyes gave makeovers to stores at Totton, Wakefield and North Harbour and completed the purchase of two businesses – The Pet Store, with three stores at Barnsley, Denby Dale and Wakefield in October 2021, and Bannerbrook Pets in Coventry in November. The acquisitions took the number of company stores above 70 for the first time.
Jollyes has 20 new store openings in the pipeline for the next 18 months. In the first half of 2022, the company will open new stores in Edinburgh, Glenrothes and Stirling in Scotland, a new Welsh store in Wrexham and also at Cookstown in Northern Ireland. In England, it will open new locations in Bristol and Stockton-on-Tees.
Richard Cotter, executive chairman of Jollyes, said: "To come through the pandemic and all of the challenges it has presented to retailers in such good shape is testimony to the hard work of everyone at the business.
"The tremendous half year sales and record December numbers show how much customers appreciate the work we've done to develop our ranges and invest in our people.
"We're well placed to push ahead with our ambitious growth and investment plans with an exciting pipeline of new stores and refurbishments, and keen looking for acquisition opportunities across the UK."