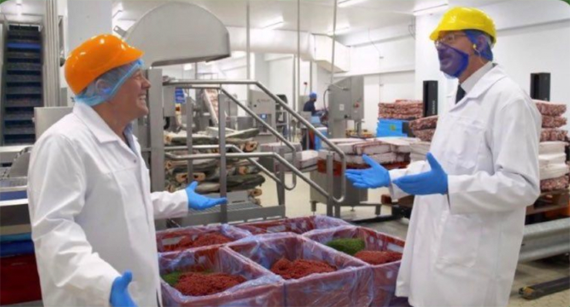 Television viewers got a glimpse into pet food production when raw food specialist Natures Menu featured in an episode of Channel 4's Food Unwrapped programme earlier this month.
Programme presenter Matt Tebbutt was guided around Natures Menu's Snetterton factory by the company's technical manager, Richard Hindley. Following the progress of the Country Hunter Raw Nuggets production line, viewers were given a behind-the-scenes glimpse of how the dog food is made.
Seen by 1.3 million people, the episode communicated the benefits of feeding a raw food diet to dogs, as part of a 'Healthy New Year' theme.
Hindley said: "It was a fantastic experience welcoming Matt and the team to the factory and rewarding to see how well received the products are that we make at Natures Menu. We're delighted that the reported benefits of a raw food diet were communicated throughout the 'Healthy New Year' show, as well as the impactful imagery used of the nutritious ingredients that go straight into our food."
Following the visit, Matt Tebbutt joined Natures Menu on The Pupcast, stating: "I was genuinely blown away by the quality of the ingredients and the process that goes into making the product – the pallets of whole salmon, fresh looking vegetables and high quality ingredients that were being turned into pet food was extremely interesting."
The episode, originally broadcast on January 3, is available to view on demand on All4.