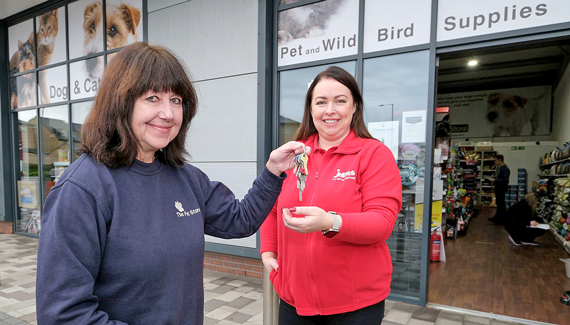 Liz Bowers, from The Pet Store, and Jollyes area manager Sarah Farrar at the Snowhill store in Wakefield, which has been acquired by Jollyes
Nationwide pet retailer Jollyes is buying The Pet Store and its three Yorkshire stores for an undisclosed sum.
Established by Barnsley entrepreneur Liz Bowers in 1991, The Pet Store has built up a loyal customer base, focusing on customer service and hard-to-find premium brands from her stores in Barnsley, Denby Dale and Wakefield.
"The acquisition is a marriage of two businesses dedicated to high quality and personal service for pet owners," a spokesman said. "In a recent review of Yorkshire pet shops, both Jollyes and The Pet Store were named the number one and number two stores in the county respectively."
The agreement to buy The Pet Store is the latest move by Kester Capital-backed Jollyes to accelerate its growth plans. The Pet Store customers will still be able find the same ranges, with advice provided by the same 10-strong team across the three stores.
WONDERFUL
Richard Cotter, executive chairman of Jollyes is looking forward to the three stores joining the Jollyes team. He said: "Liz has built up a wonderful business over the last 30 years – it's clear her customers love the whole team and the service they've given Yorkshire pet lovers.
"Nothing pleases us more than that Liz has agreed to help lead the transition at the three stores as the team joins our Jollyes family.
"We're excited at the addition of The Pet Store to our family and the start we've made to our growth plans."
Liz said: "We all can't wait to start wearing the Jollyes red jumper. Over the course of the last few months, we've got to know the Jollyes team well and they've been fantastic to deal with.  They're already family.
"I know Jollyes share the same values we do and I'm certain the business I've nurtured over the last three decades is in very good hands."
NATIONWIDE
The Pet Store employs 10 people, who will join the 720-strong workforce across the Jollyes nationwide network.
The three stores will complement Jollyes' existing outlets in Yorkshire at Doncaster, Halifax, Keighley, Leeds, Selby, Sheffield and Wakefield.
In its most recent quarter, Jollyes delivered 21%  like-for-like growth compared with the same period in 2019. All regions across the UK have seen double digit growth with a particularly strong performance in Northern Ireland.
For the 12 months to May 2021, revenue increased 13% to £77m compared with last year.
Following this investment, Jollyes expects to open more new stores through both the targeted strategic acquisition of smaller pet retailers and taking on new leases across Great Britain and Northern Ireland.