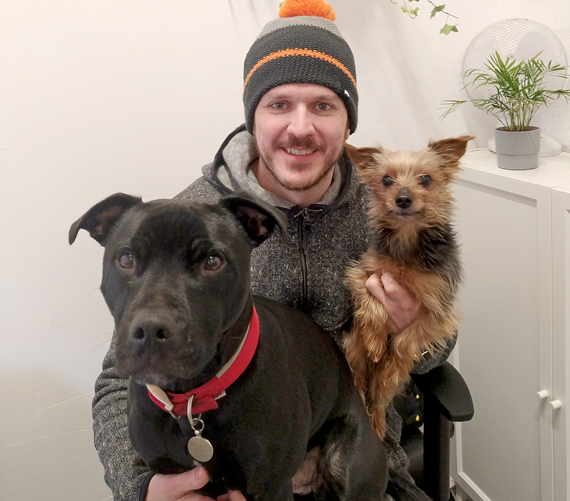 A dog rescuer from Merseyside has launched what he believes is the UK's first online flea and worm treatment subscription service that includes free 24/7 digital access to emergency vets.
Chris Walker, 40, unveiled his new business, Flerm (www.flerm.co.uk), in December in a bid to give dog and cat owners an alternative way of taking care of their pets at home.
In another 'first', the service also includes a free annual health check – delivered by video call ¬- as well as optional extras such as treats, multivitamins, toys and compostable poo bags or litter tray liners.
"I first realised that there was an issue in the pet protection sector during the pandemic," said Chris, who owns two rescue dogs, Mr Darcy the Yorkshire terrier and Benny the Staffordshire bull terrier.
"I was queuing up outside our vets – wearing a face mask – waiting to collect the routine treatments my family relies on to keep our dogs safe and well. I felt sure there had to be a better way, one that meant people could have their flea and worming protection delivered direct to their door.
"I wanted to do something about it not only for those who were self-isolating and shielding, but for anyone who finds it difficult or time-consuming to have to access their local vet. Most rewarding of all, we are actively growing a network of partnerships with rescue shelters across the UK – going as far north as Edinburgh Dog and Cat Home.
"Closer to home, we are working with Manchester-based Dogs 4 Rescue, who have taken up our offer to provide treatments at cost."
ECO-PACKAGING
The Flerm concept took six months to bring to market, with Chris researching scientifically-proven treatments, as well as investing in certified eco-packaging made from recycled and compostable materials.
"Prior to the first national lockdown in March 2020, I had been in the process of designing an ethical pet insurance business," said Chris, who is also a therapeutic foster carer with his wife, Tracy, 37.
"I am excited to pick that project up again this year, which will be the perfect accompaniment to Flerm. For many people, pets have been a lifesaver during lockdown – offering comfort and companionship. I am proud that, in turn, we are finding new and better ways to care for our dogs and cats by removing the friction from the process of safeguarding their health and wellbeing."
Flerm health plan customers are able to text, chat or video call with a UK-registered vet free of charge at any time, with no appointment necessary. Chris explained that this service worked from any smartphone, tablet or desktop device.
"As a dog owner myself, being able to offer people instant access to veterinary advice without leaving their home was very important to me. Initial feedback has been highly positive and we are delighted to be moving forward in such an exciting direction."