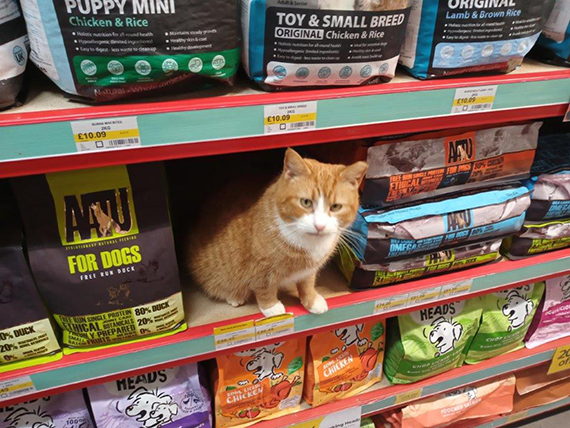 Is Tiddles the UK's hardest working cat? Quite paws-ibly!
The ginger tabby has been a firm favourite with both customers and staff at Jollyes Pet Superstore, in Banbridge, Co. Down for the past three years – and a fur-midable member of the team.
It all began when assistant manager Alex Livingston fed a stray cat who turned up outside the store. Little did he know that this would be the cat-alyst for Tiddles becoming one of the store's most valued members of staff and his purr-fect pal.
Alex said: "When I arrived for work one morning, I noticed a ginger cat at the door who looked as though he was very hungry. We gave him some food and, unsurprisingly, he returned the next day. That was three years ago, and he has been a permanent fixture at the store ever since."
And to prove there is no such thing as a free meal, Tiddles became an honorary member of staff, fulfilling a number of roles including product testing, customer service, stock-taking and social distancing supervisor.
"Tiddles is in the store every day and our customers love him," said Alex. "We regularly have people asking to meet him – he's become quite the local celebrity.
"In the evening he goes off into the night just like the rest of the staff and he is back again bright and early the next morning for another day's work.
NERVOUS
"In the beginning we were a little nervous having Tiddles in the store especially as we have a range of birds on sale, but he is great with them and, if anything, he guards them to make sure they are okay.
"When we have visitors from head office call in, Tiddles will lead our VIPs around the store – it's quite a thing to see."
Tiddles has become so fond of Alex that on days when the assistant manager is not in work other staff members notice the cat can be quite anxious. But they have found an ingenious way of settling his nerves…Alex hails from Glasgow and when he is on leave staff members will play Scottish radio stations in the store, with the presenters' accents having a calming effect on Tiddles.
"As an essential retailer with 67 stores nationwide, Jollyes remained open during lockdown. During that time Tiddles certainly helped put a smile on the faces of our customers and staff which was wonderful."
Tiddles has apparently now posted pictures of himself at work on his new Instagram page at https://www.instagram.com/jollyes_thepetpeople/ and customers can message him directly.