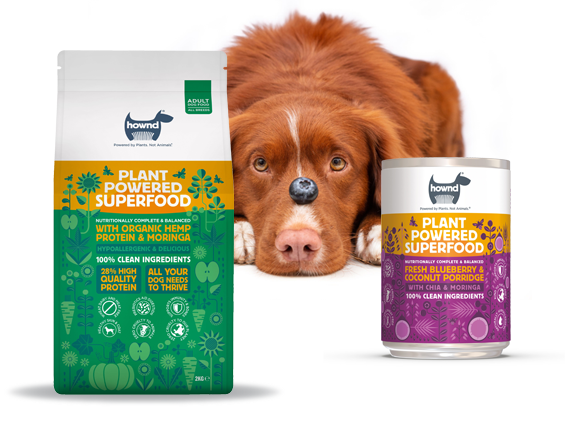 Hownd is extending its Plant Powered Superfood food range with the launch of the world's first ready-made porridge for dogs – Fresh Blueberry & Coconut Porridge with Chia & Oats.
The multi-award-winning pioneer of cruelty-free, certified plant-powered pet care products since 2015, says its Fresh Blueberry & Coconut Porridge with Chia & Oats is a nutritionally complete food for adult dogs, using 100% plant-based ingredients.
"The new recipe launches ahead of World Porridge Day on October 10 and World Vegan Month in November, at a time when the vegan pet food industry is gaining momentum and consumers are making more conscious choices on the quality, provenance, health and environmental impact of their dog's food and products," a spokesman said.
The new recipe uses 100% clean vegan ingredients and is vet approved.
Also joining the new Porridge recipe is Hownd Fragrant Papaya Chia & Lentil Dahl with Coconut & Moringa. Giving a nod to one of the nation's favourite cuisines, this will sit alongside the original Hownd Hearty Quinoa and Pumpkin Casserole with Organic Hemp Protein and Moringa Plant Powered Superfood, which launched in February of this year.
And for dogs that like their meals to have the crunch-factor, this Autumn also sees the introduction of Hownd's first dry food recipe, Hownd Plant Powered Superfood with Hemp Protein and Moringa (2kg and 10kg bags).
Hownd co-founder Jo Amit said: "Hownd is completely focused on maintaining optimal health and wellbeing in dogs while avoiding harm to other animals and the planet, and our customers share this passion."