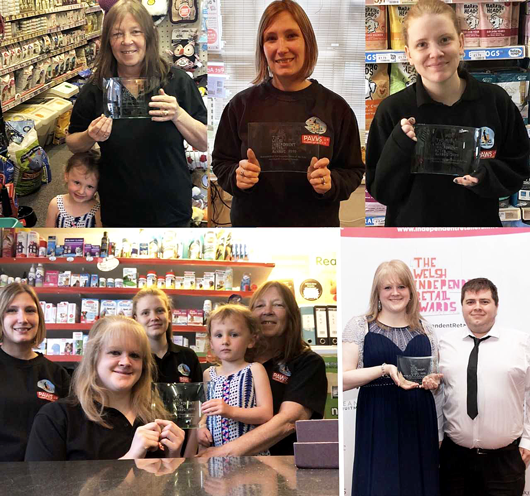 A pet store in Chepstow has won the Independent Welsh Retail Award for Best Pet Supplies Store.
The award recognises businesses 'whose entrepreneurial spirit, commitment to customer satisfaction and ethos' have helped them stand out.
Chepstow Pet Supplies is managed by owner and director Nina Gray, who bought the shop in 2012.
"Since a young age, I've always had a passion for animals and have had many pets over the years, but running a pet shop had never crossed my mind" she said. "Following a family bereavement, I wanted a change and decided to go back to what I loved – animals and helping others."
Nina and her family found a run-down pet shop in Chepstow and took over the premises. Over the years, they have increased their product offering including new and unique products and 'catering to customers' needs.

LOCAL DELIVERIES
"We have always been a family-run business, with the Chepstow store operating with a few part-time staff and myself," said Nina. "One particular lady, Julie, has been with me since two weeks after we opened and her daughter, Claire, joined the team a couple of years ago as well. Even Claire's young daughter comes to visit us to 'help and play shop'.
"We want to make life easier for our customers, so we have always prided ourselves on being able to source products for customers if they are looking for something we do not have in-store. We also offer local deliveries, a quick ordering service and many supplier loyalty schemes and our staff have completed varying supplier training courses to become knowledgeable about the products – they all love pets!"
A sister store opened in 2014 when the team took over a pet shop in Monmouth.
She said: "Customers (and their pets) are the most important part of the job; it is why we do what we do and why we are still there after almost seven years. All the team work hard to make sure we offer great customer service and we thrive on being a friendly, approachable pet shop, where you can ask us anything…
"In the future we hope to start selling online as well."
Chepstow Pet Supplies' staff members were presented with the award by former Capital radio presenter Polly James at a ceremony in Cardiff.