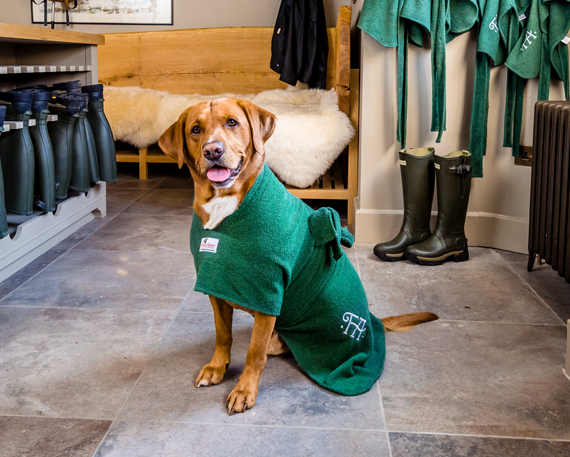 Award-winning pet accessory business Dogrobes has won a contract to supply one of Scotland's leading hotels, The Fife Arms, with its range of dog drying coats.
Described by the Financial Times as 'Scotland's hottest hotel', The Fife Arms is a Victorian coaching inn that has been restored. It is located in the historic Scottish village of Braemar and provides accommodation for both visitors and their dogs.
Braemar – home of the Highland Games – and the Cairngorms National Park are ideal if guests fancy for a challenging hike or just a gentle stroll with their dog.
Naturally, all this walking can result muddy or wet dogs, which have to be dried off before they can return to their hotel rooms for a nap!

MADE IN BRITAIN
Dogrobes owner Margaret Reynolds said: "Dogrobes dry the dogs quickly in around 30 minutes, depending on the breed of dog… Dogrobes are so easy to fit… Dogs love them because they are so lightweight – even dogs who don't like wearing jackets.
"We are very proud that we're made in Britain. We have one large manufacturer and two other smaller manufacturers who are all based in Scotland. We also use a team of talented up-and-coming designers to design our Exclusive Collection."
The Fochabers-based company also offers a range of complementary dog accessories to go with the Dogrobes including snoods to dry the dog's head, neck and ears.
Dogrobes are hung on pegs in the magnificent Boot Room at the Fife Arms for guests to use and are also on sale in the hotel's shop.
Federica Bertolini, general manager of The Fife Arms, said: "Araminta our tweed and tartan designer introduced the dog robes to the Fife Arms. We had to have them immediately! Made in Scotland, stylish and very useful… just what we like to sell in our shop."