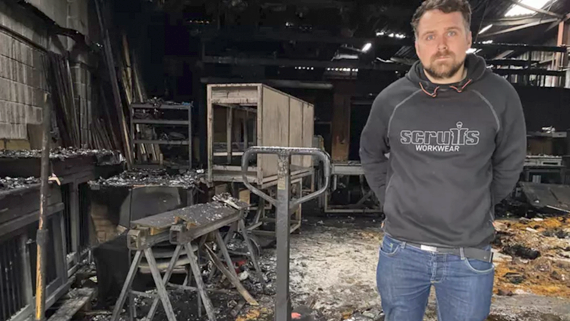 A fund-raising campaign has been launched to help save a pet furniture firm ravaged by a blaze at its workshop.
The Pet Carpenter's premises on Dartmoor was devastated by fire which started in a neighbouring unit in the early hours of Wednesday, October 27.
The business, owned by Harry Glover, lost all of its tools, machinery and materials, as well as 14 pieces of pet furniture due to be delivered to customers.
Harry's sister Gemma Glover has now started a GoFundMe appeal in a bid to rescue the company.
Gemma said: "This is not only a devastating personal loss for owner Harry Glover and his family, but also for our invaluable team of six colleagues who have all poured their hearts and souls into supporting us to create a thriving business, which only started in July 2020 amidst the global pandemic."
The Pet Carpenter was born from combining a love of carpentry and home interiors with a love for the nation's pets.
"We are now looking at all the ways in which we can rebuild our business, look after our staff through the next few months, as well as serve all our existing customers with their orders without compromising the craftsmanship and quality for which we are known," said Gemma.
Funds raised from the appeal will be put towards covering the cost of a temporary workshop and to help the company's dedicated team to keep working.
Gemma added: "We have thought long and hard about putting out such a request, however several of our community have reached out and suggested we do so.
"We have been blown away by the outpourings of love and good wishes, and the comments alone continue to give us the drive and motivation to see these challenging times through.
"On behalf of all the team at The Pet Carpenter we are truly grateful and appreciative for support of any kind, especially at a time that's difficult for many."
More than £600 has already been raised towards the £2,500 target.
The GoFundMe page can be found here https://www.gofundme.com/f/help-rebuild-the-pet-carpenter-after-fire?utm_campaign=p_lico+share-sheet&utm_medium=copy_link&utm_source=customer