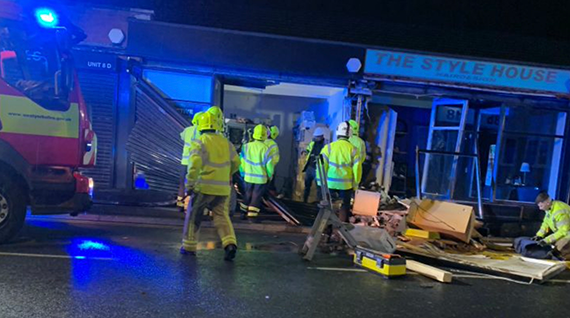 An online money-raising appeal has been launched to help rebuild a pet shop wrecked after a car crashed into it.
Two people were seriously injured when a BMW vehicle struck the Peculiar Pets building in Market Street, Heckmondwike, West Yorkshire, at 9.30pm on Monday (July 5).
The pet shop suffered major damage in the crash, and it's understood that some animals died in the incident.
"The shop is an absolute wreck," owner Jordan Mangham posted on Facebook. "I've seen and truly appreciate all the messages of support, and to the people who came out to help, you're the best. I'm honestly in shock."
The driver and passenger of the BMW were taken to hospital with serious but not life-threatening injuries.
The online appeal, called 'Help Rebuild Peculiar Pets', has been launched by Jordan's friend Caitlin King, on the gofundme site.  She said: "We want to raise money to help rebuild the devastation caused. Unfortunately, there has been loss of animals, equipment and Jordan's livelihood. So can we all come together and help Jordan out?"
Caitlin's fundraising target of £1,500 had nearly been reached in less than 24 hours with 74 donors contributing a total of £1,455.
In a later Facebook post Jordan said: "Officially we are done for the time being. All animals are out of the shop, and the shop is secured via my new Country Western style barn shop front.
"I haven't quite decided how we will continue to serve people but I will work this out after the other list of things to sort today.
"Thank you once again to everyone who has messaged offering help. When we have a plan there will likely be a call for volunteers to help get everything done and dusted but for now this is as much as we can do. I'm going home to sleep now."
A West Yorkshire Police spokesperson said: "Police were called to reports of a road traffic collision. The vehicle, a black BMW, had made slight contact with another vehicle, a Peugeot that was turning off Market Street onto Beck Lane prior to the collision.
"The driver and passenger of the BMW were taken to hospital with serious but not life-threatening injuries. Enquiries are ongoing."