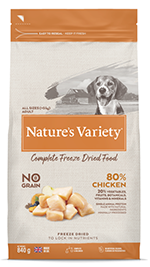 Natural pet food brand Nature's Variety has been awarded a New Product Award at the Pet Industry Federation's Virtual Petindex for its Freeze Dried Chicken dog food.
James Langan, managing director at Nature's Variety, said: "We're thrilled that Nature's Variety has been recognised in the Pet Food category at the Virtual Petindex as a superior product. It's fantastic that Nature's Variety's Freeze Dried products have been so well received – it's testament to the team, the technology and the nutritious product."
Daniel Everett, events co-ordinator at the Pet Industry Federation, added: "Congratulations to all the team at Natures Variety on this achievement."
The Freeze Dried range features complete products in a variety of premium deboned meats, with vegetables, botanicals and superfoods and no artificial colours, flavours or preservatives.