National training provider Animal Courses Direct has teamed up with a specialist school to add grooming to its range of pet-related education.
It reached an agreement with Four Paws Groom School and Pet Training Courses to deliver the practical element of the iPET Network dog grooming qualifications.
iPET Network is an awarding organisation set up by groomers Fern Gresty and Sarah Mackay, who also run the Four Paws operation.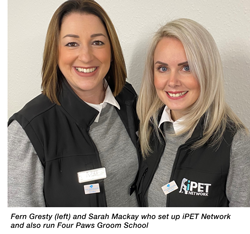 Kim Pearce, director at Animal Courses Direct, said: "We are passionate about improving the standards of animal welfare through education.
"We are delighted to now be offering three pioneering Ofqual-approved dog grooming qualifications newly developed by the sector-specific awarding organisation, iPET Network.
"The qualifications include valuable hands-on training, and the materials place specific emphasis on the care and welfare of dogs; this aligns with our ethos of ensuring excellent standards of care for animals across the sector through the provision of quality training provision."
The three new qualifications are: Introduction to Dog Grooming; Dog Grooming and Introduction to Styling; and Dog Grooming and Salon Management.
The courses are open to anyone aged 16 or over, and are being billed as a great alternative for school leavers who want to obtain an A-Level equivalent.
Fern Gresty said: "Our courses are created by people who work in the industry and are delivered in a way which allows existing professionals to level up, as well as welcoming brand new people into the industry with open arms."