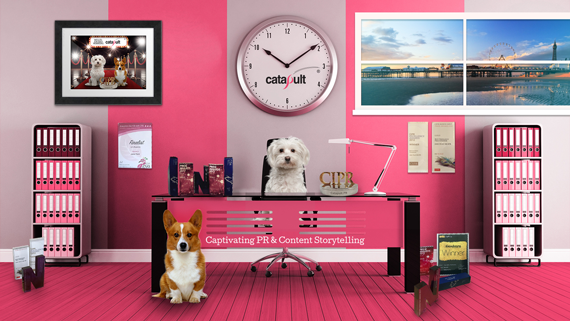 A PR firm has launched a video animation to showcase its work and encourage pet companies to view its special offer.
Catapult PR, which already works for pet sector businesses such as insurance providers and pet-friendly travel companies, commissioned the video through Superstar Pets.
It features a Maltese and a corgi, who sing about the company's approach and successes to the tune of Black & Gold by Sam Sparro.
The action starts off in Catapult PR's offices, where some of its many awards have been scattered, before switching to a red carpet gala awards scene.
By watching the video and listening to the lyrics, pet firms can get a 20% reduction on Catapult's services by answering a simple question.
Managing director Jane Hunt said: "All pet businesses need do is listen to the lyrics and find out how many awards we have in our trophy cabinet.  It is important to use the video to get the answer, as we have more awards in the offing and the tally may change."
"This fee reduction is of a size we've never offered before, so this is a one-off opportunity.
"We wanted to do something different to highlight our expertise in the pet, insurance and travel sectors and we are thrilled with the video Superstar Pets created.  It is already commanding attention and, with this offer built around it, we hope to perhaps enable a few pet businesses to access more affordable marketing support."
The video can be viewed at www.catapultpr.co.uk