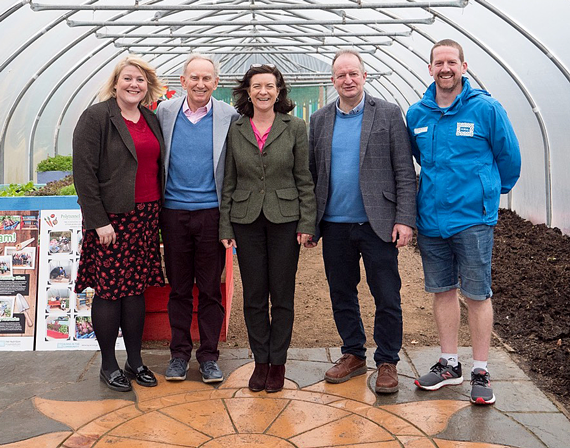 Burns Pet Nutrition has welcomed Welsh Assembly Member Eluned Morgan as part of a tour of businesses in the region.
The Minister for International Relations and the Welsh Language visited the pet food company's Parc Y Bocs Farm Shop in Kidwelly, where she met with its founder, John Burns, to discuss the role of the business in Carmarthenshire and its economic impact on the region.
As part of her visit, the Minister was introduced to members of staff and customers at the farm shop and restaurant, and also spent time with service users of the Burns Pet Nutrition Foundation, learning about the work the foundation does to support people in the local community.
Eluned Morgan said: "This is a truly local business that not only supports the local community but has an export reach to Europe and beyond.
"I am really interested in the work that the foundation is doing to tackle isolation and to encourage reading in schools with the Burns By Your Side scheme. The fact that so many schools are getting involved here at home and in Ireland is a fantastic achievement and it is certainly something I will be promoting in schools across the region."
BRINGING PEOPLE TOGETHER
Burns Pet Nutrition has made a commitment to helping the community, funding the work of a charitable foundation and creating and sustaining a number of local jobs.
John Burns said: "It was always part of my goal that I would be able to use the success of the business to help good causes. The foundation is now going from strength to strength and is always expanding its horizons.
"We have a number of schemes including Burns By Your Side, a reading to dogs scheme that supports literacy in children and young people, and Coffee in the Cwtch, a programme where older people in the community come together to engage in activities and combat loneliness. We also work extensively with adults with learning difficulties, and brain injuries within a project that offers a range of recreational activities, designed to develop and enhance valuable life skills."
The work that the foundation is undertaking locally aims to bring people together and give back to the community.
Burns Pet Nutrition Foundation manager Melanie Jones said: "There are older people in our community who have so much knowledge that they can pass on to the younger generation and we want to give them the platform to do so.
"Our foundation not only gives the older people an opportunity to meet with people, helping to combat loneliness, but also has a cross generational approach where young and old can mix in the same environment and learn and benefit from each other.
"The enthusiasm that the Minister showed for the work of both the company and the foundation gives us a huge boost."