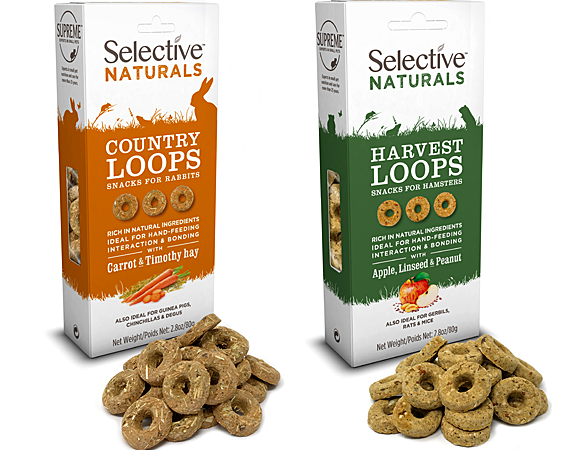 Supreme Petfoods presented its new Selective Naturals treats to veterinary professionals at this year's iCARE conference in London. Now in its fourth year, iCARE covers all topics for exotic, wildlife and zoo species.
Vets and veterinary nurses estimate that around 30% of UK pet rabbits are overweight or obese so delegates were keen to see foods that were high fibre with no added sugar.
According to the PDSA PAWS Report 2018, it has been estimated that 67,000 rabbits pass through UK rehoming centres each year, with the most common reasons for relinquishing the pet including inability to care, or lack of interest in caring for the pet.
Some 83% of current rabbit owners give treats and cite that they feel both they and their pet find this enjoyable.

BENEFICIAL
While recognising that treats are beneficial in interaction and bonding with small pets, many delegates told Supreme that they felt owners had a tendency to overfeed poorly -formulated treats – many of which contained sugary syrups or molasses.
Supreme marketing manager Claire Hamblion said: "We had some really interesting conversations with vets and nurses about the increasing number of small pets they saw in practice that were overweight and being fed inadequately – with insufficient fibre and too many sugary snacks the main culprits. The reaction to the Naturals range was very positive, especially given that the overall fibre content is similar to that in hay."
The Naturals range contains natural ingredients and no added sugar and benefits from two new additions: Country Loops, containing traditional carrot blended with timothy hay, for rabbits and guinea pigs, and Harvest Loops – with apple, linseed and peanut, for hamsters, gerbils, rats and mice.
REWARDING
Exotics specialist Molly Varga says it is important to continue to educate owners of rabbits and other small pets about the right way to feed and what to feed: "Treating can stimulate engaging behaviours in the pet, which are rewarding for the owner, so from a welfare point of view of helping them to care, we need to recognise they play an important role. But feeding a healthy treat is an absolute must and feeding one that can increase the overall fibre in a rabbit's diet is even better."
Supreme has a library of free CPD available on the vet zone of its website to increase knowledge about nutrition in small pets and the link with disease. The latest talk from Molly Varga and Jo Hinde, videoed at BSAVA congress, entitled 'Gut Stasis: It takes two', is now available to download at https://supremepetfoods.com/vet-zone/.