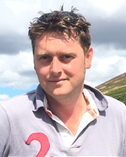 James Palmer
James Palmer has been appointed business development manager by Yorkshire-based flax seed supplement specialist PureFlax.
James has been involved in the equestrian and pet product sectors for nearly 12 years and will be working with PureFlax on an agency basis.

"We're thrilled to have James on board to help drive the brand forward," said PureFlax director Grace Liddle. "Our business is in an exciting stage of growth.
James added: "I'm delighted to be joining the PureFlax team. PureFlax oil for horses and dogs is an excellent product sold at a sensible price and I look forward to working with all of the brand's customers."
Grown, cold pressed and bottled on the farm with full tractability, PureFlax oil is an all-natural product formulated to promote healthy joints, support mobility, help with skin complaints and increase coat condition.