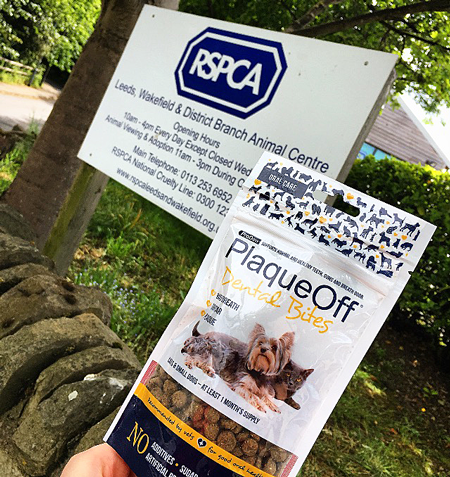 Swedencare UK, the distributor of the oral hygiene supplement ProDen PlaqueOff, has given products to its local RSPCA shelter.
As part of its charity outreach programme, ProDen PlaqueOff has donated 150 bags of its Dental Bites to the shelter. The RSPCA Leeds, Wakefield and district branch is the closest to the Swedencare offices, in Leeds.
Jessica Hargreaves, Swedencare UK's marketing co-ordinator, said: "We may be part of a global company, but it is important to still help those who are local to us and are in need.
"Many of the Swedencare UK staff have adopted rescue dogs and it is apparent that many rescue dogs do suffer with their oral hygiene due to neglect. If left untreated, many dogs who do suffer with oral hygiene problems can become worse and lead to infections in other parts of the body, which can be fatal."
ProDen PlaqueOff is a dental supplement range containing a patented formula, which is sold in powder form or as Dental Bites or Dental Bones to help to reduce bad breath, plaque and tartar.