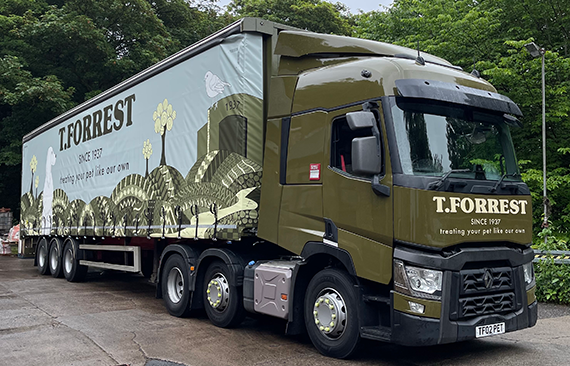 T. Forrest has expanded its fleet of vehicles with a new, state-of-the-art 40ft trailer unit.
The investment comes as the 80-year-old company experiences continued growth.
A spokesman for the Wallbank family said: "We have experienced an increased demand for our natural pet products, even throughout the pandemic. The government has deemed the manufacture of pet-related products as an essential service so manufacture has not been disrupted.
"To ensure the continuity of supply to our customers we have increased the size of our fleet.  We are over the moon with our new addition, it means we can increase capacity and streamline our operations effectively."
The new vehicle was designed by Tina and Shaun's daughter, Charlotte Wallbank, T. Forrest's graphic designer.
Tina said: "The new vehicle incorporates our new branding, which we are extremely proud of.  Charlotte has worked so hard on the design and has done such an amazing job. It's great to see it out on the roads."