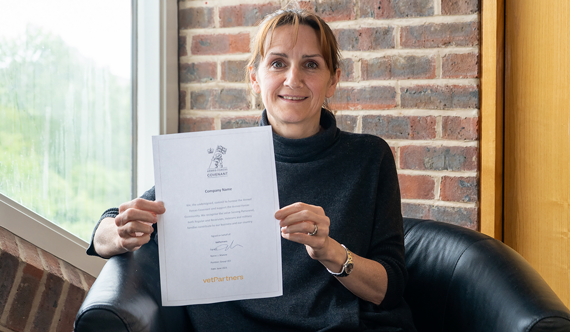 Jo Malone with the Armed Forces Covenant signed on behalf of VetPartners
VetPartners CEO Jo Malone has spoken of her pride in signing a pact with the armed forces to support ex-service men and women find jobs and thrive in the workplace.
Jo signed the Armed Forces Covenant on behalf of the York-based veterinary group, an agreement which states that a business will do all it can to ensure ex-military do not face discrimination.
Signing the Covenant and becoming a forces-friendly employer is especially poignant for Jo as her father, Robert Wilcockson, served in the Corps of Royal Engineers as a biomedical engineer.
Sadly, he did not live to see his daughter, a vet, go on to achieve business success after founding VetPartners in 2015 and guiding it to become Europe's leading veterinary groups, with 160 practices employing more than 6,000 people across around 550 sites across the UK and at its headquarters at Spitfire House in Clifton Moor, York.
Since 2011, more than 6,000 businesses of all sizes, charitable organisations, local authorities and public sector organisations have signed the covenant.