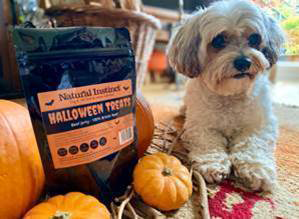 This Halloween raw pet food brand Natural Instinct has teamed up with talented cocker spaniel Bella and her owner to prove to the nation that anyone can teach their dog new tricks.
Known as 'Paul Spaniels' thanks to her unrivalled magical talent, dog Bella and owner Lynn Stacey are training the nation's dogs to perform a variety of tricks throughout October, alongside the social media hashtag #TricksForTreats.
Each week, Bella's videos feature a ghoulish new trick that dog owners can watch and follow along at home. Each video will include step-by-step advice and by the time All Hallow's Eve is here, dogs across the UK will have learnt four new tricks including a high five, a bow, a peek-a-boo action and spin.
Natural Instinct is hoping its limited-edition spooky Halloween treats will help with the training, as they are a ready-to-eat snack version of mini beef jerky sausages. Made using 100% British beef heart, these naturally dehydrated mini treats are ideal for training.
Bella, a nine-year-old Assistance Dog, is a vital companion to owner Lynn who suffers from a disability. Bella, trained by Assistance Dog charity, Dog A.I.D is well known for her ability to assist with daily chores supporting Lynn in the home, as well as being a trick champion, knowing hundreds of tricks. From emptying the washing machine through to doing a handstand, making the bed, and even loading the dishwasher.
Rachel Kirby, spokesperson for Natural Instinct, said: "There is a misconception that teaching dogs tricks is extremely difficult and for specific breeds only. However with the right knowledge and expert advice, all owners can teach their canine friends fun tricks in a safe way and we are delighted to be working with Lynn and Champion Trick Dog, Bella, who really are the experts.
"Our Halloween mini treats provide a great excuse to kick-start some home trickery, involving our pets in autumnal festivities. We hope our customers enjoy spending quality time with their dogs and have fun teaching 'tricks for treats' this Halloween."
To watch the videos visit the Natural Instinct Facebook page https://en-gb.facebook.com/NIPetfoods