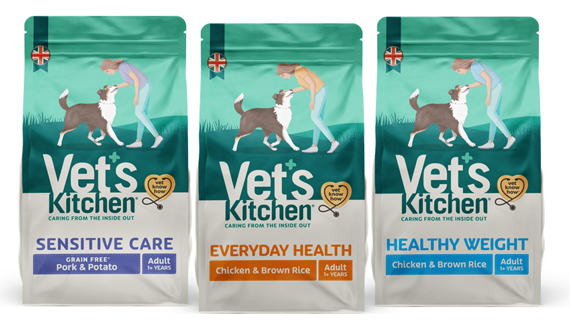 Specialist packaging supplier Tyler Packaging has supplied cat and dog food brand Vet's Kitchen with new 100% recyclable packaging in support of the company's commitment to prioritise environmental goals.
The Leamington Spa-based company developed a super-premium structure made from mono polymer laminate to make packaging that's both sustainable and still has the 'wow' factor.
Vet's Kitchen's new packaging features a flat bottom single lip, with an easy-open feature and re-sealable zip fastener to maintain freshness and protect the product's shelf life.
The mono polymer technology makes this packaging 100% recyclable. While conventional multi-layer composite film in packaging is difficult to recycle, mono-material films constructed from a single polymer resin are fully recyclable.
The new packaging also features an OPRL (on-package recycling label) to prompt customers to dispose of it responsibly and sustainably.
The new packs are available from October, beginning with dry dog food, and form part of a re-brand for the business which will underpin its environmental credentials.
Head of marketing Jilly Whibberley said: "The Vet's Kitchen brand is synonymous with high-quality pet food that delivers real health benefits, which goes hand-in-hand with our gradual move to a sustainable and more environmentally-friendly packaging solution.
It was an integral part of our recent rebrand strategy and, to date, with the help of Tyler Packaging, we have reduced our plastic use by over a quarter (27%) on some lines, and 17% across the range. For a small business, we're taking big steps and hope to inspire larger pet food companies to follow our lead!"
Sales and technical director at Tyler Adam Kay said: "It was a great project to work on under a very tight timeframe, delivering a market-leading solution that has no compromise for the brand owner.
"Our certified 100% recyclable structure has registered matt and gloss finish, so the pack stands out, whilst also giving the consumer the advantage of a re-sealable zipper and an easy-open feature – all in a 100% LDPE pack."