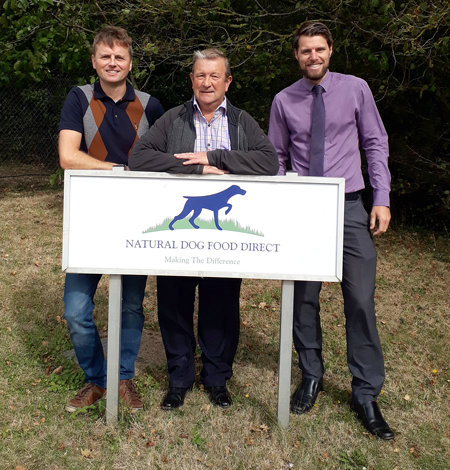 (L-R) Will Saville, Craig Ewing and Paul Hawkey
Natural Dog Food Direct has opened its first factory near Bury-St-Edmunds, in Suffolk, with a six-figure funding package from NatWest.
The raw dog food firm has used the finance to buy the factory, in Elmswell, after outgrowing its previous base at McKenzie Butchers, in Kempston and various other sites across Bedford.
The new processing factory will enable the company to increase production for existing customers and expand its customer base. The firm is also in the process of creating its own dog food brand, which will go to market in January, and plans are under way to add dog treats to its product range.
Established in 2017 by Craig and Jennifer Ewing alongside family friend Will Saville, Natural Dog Food Direct says it provides 'high-quality, healthy food options for dogs'. The company currently employs 30 staff and will recruit an additional 20 people within the next two years to support increased production.
BUTCHERS
The couple also runs McKenzie's, the largest butchers in Bedford.
Craig said: "After 18 years running McKenzie Butchers, we decided to use our experience to branch out and fill a gap in the market for raw dog food.
"Natural Dog Food Direct has grown exponentially and…we needed to invest in a facility that would allow us to increase production further.
"With the support of NatWest, we have been able to purchase the factory in Suffolk, which will help us meet growing demand and enable us to bring our own brand to market. We hope to see this on the shelves in stores in the coming months."
Paul Hawkey, relationship manager at NatWest, said: "We have supported Craig and Jennifer with both McKenzie Butchers and their more recent business venture, Natural Dog Food Direct. The funding we have provided will allow the company to achieve its next business milestone of creating and selling its own raw dog food brand and expand its customer base further."