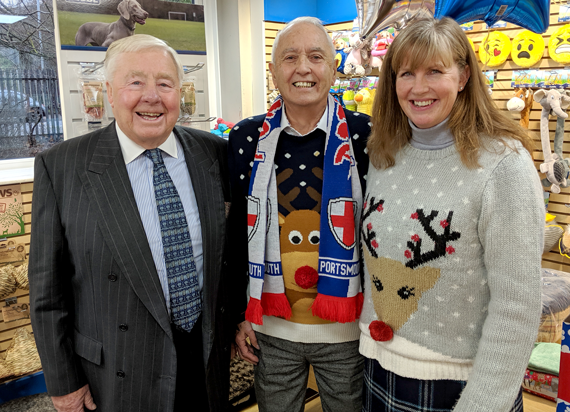 Ancol Pet Products has bid a fond farewell to Ray Mitchell, who has been a representative with the Midlands company for 17 years.
Ray has been a favourite of Ancol customers and staff alike for his humour and charm and plans to spend his well-earned retirement travelling with his wife, Sandra.
The company's founder and chairman, Colin Lane, has known Ray for 40 years and thanked him for always putting in a huge effort. And director of sales Sarah Lane thanked Ray for putting smiles on the faces of staff and customers for 17 years.
Together, they presented him with a gift from the Ancol staff – a match and meal at his beloved Portsmouth Football Club – and a gift from the company, which was  a contribution towards his retirement travel plans.

RETIREMENT
Sarah said: "We cannot thank Ray enough for his loyal service to Ancol Pet Products. Although we are sad to see him go, we wish him an excellent retirement and will be keeping in touch to hear all about his travels."
Ray thanked the 'Lane family' – Colin, Ann, Simon, Sarah and Jonathan – for building what he called, 'a wonderful company that has been a pleasure to work for' and thanked the staff for their support.
Ray's 'patch', the South-East, will now be cared for by new representative Brendan Heneghan, who said: "It has been a pleasure working alongside Ray for his last two weeks. I have already seen the loyalty the company inspires in its customers and I am keen to keep strong the excellent relationships that Ray has built with his customers over the past 17 years."