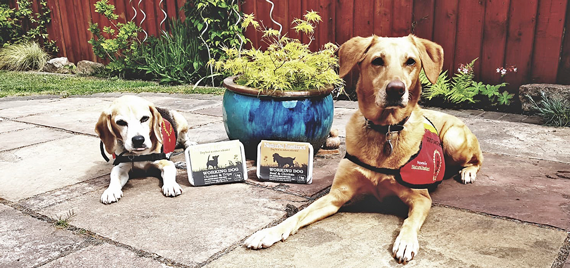 Premium raw pet food brand Natural Instinct is celebrating a six-year partnership with disability assistance charity Dog AID.
The brand is a longtime supporter of the charity, sponsoring two Dog AID dogs, as well as contributing to trainer uniforms, key marketing activity and more.
Dog A.I.D, based in Shrewsbury, is one of eight recognised Assistance Dog charities in the UK, governed by Assistance Dogs UK. The charity helps people with physical disabilities, aiming to improve their quality of life and independence by training their own pet dog to become a qualified Assistance Dog.
Training is run by more than 100 committed voluntary Dog AID Trainers around the UK and since the Natural Instinct partnership began, the charity has trained more than 117 Assistance Dogs.
Once qualified, each Assistance Dog receives the recognisable Dog AID red jacket – provided by Natural Instinct – and is kept up to date with the latest news in the twice annual, Members and Supporters Newsletter, funded by the brand. Alongside this regular support, Natural Instinct also sponsors two dogs, Bella who is fully qualified, and Sera, who is in training. The brand provides both dogs with raw food.
Caroline Lewis, treasurer at Dog AID, said: "Dog AID is a small charity so being associated with a well-known, ethically responsible brand such as Natural Instinct is invaluable in raising our profile and increasing our reach to communities, recruiting more trainers and helping a growing number of clients nationwide.
CARING
"Not only does the brand support us financially through donations and sponsorships, but the Natural Instinct team are so friendly and caring, always going above and beyond to lend a hand.
"We often attend similar events, such as Crufts and DogFest, and the Natural Instinct team are always there to assist in helping our tired and sometimes reduced ability attendees prepare and pack down stands. We are extremely grateful to the whole team at Natural Instinct for their support over the years and hopeful our relationship can continue."
Rachel Kirby, from Natural Instinct, added: "We have worked with Dog AID for many years now and continue to be amazed by the work they do. Assistance Dogs are truly remarkable, offering much-needed support to those with physical disabilities. Not only helping with daily tasks that many of us take for granted, but also helping emotionally to decrease feelings of loneliness and dependence, while increasing confidence. We are so proud to support Dog AID and encourage everyone to learn more about the charity's amazing work."