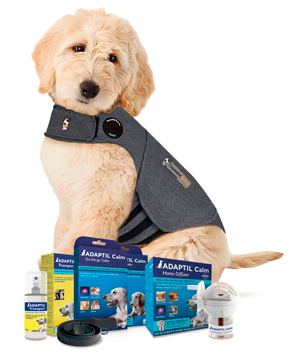 Ceva Animal Health, manufacturer of the veterinary behavioural products Adaptil and Feliway, has acquired ThunderWorks, which is best known for its ThunderShirt range of calming pet coats.
Ceva says the acquisition is a natural fit for Ceva's extensive behavioural range and will bolster its Adaptil portfolio to offer a wider variety of anxiety solutions for dogs.  The company will be responsible for the UK sales and marketing of the ThunderShirt and says it will use its knowledge and expertise in the pet retail sector to further enhance the reach of its extensive range of market-leading behavioural products.
Abbie King, senior behaviour product manager at Ceva Animal Health, said: "We have always been fans of the ThunderShirt range and we are, therefore, delighted with the acquisition, which will further strengthen our extensive portfolio of behavioural products that work in synergy with one another to provide pet owners with comprehensive anxiety solutions."
Ceva Animal Health is a subsidiary of Ceva Santé Animale, a global veterinary health company focused on the research, development, production and marketing of pharmaceutical products and vaccines for pets, livestock, pigs and poultry.