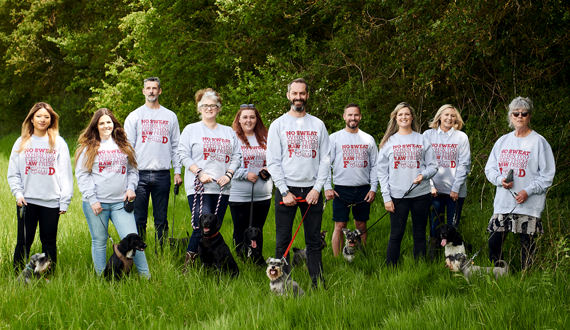 In support of the British Heart Foundation's National Walking Month campaign, 10 employees and eight dogs from raw dog food business Poppy's Picnic took a 10-mile walk in the Wiltshire countryside to raise funds for the cardiovascular health charity.
Employees of the Melksham-based company took part in the extended lunchtime walk – which aptly included a 'picnic 'break.
Poppy's Picnic founder Dylan Watkins said: "Many of us have had family and friends affected by heart disease. Knowing our donation will contribute to life-saving research around the disease responsible for a quarter of deaths in the UK really spurred us on.
"Ten miles is nothing when you think about the journey that so many families go through for a loved one. Everyone was keen to get involved, even our 30-weeks-pregnant head of VIP services joined us part of the way. We think she has a valid excuse for cheating!
"With the warmer months approaching, we'd encourage everyone to get out there. Even if you are a couch potato, you have to start somewhere and even those of us who are mostly desk-bound all day were surprised at what we achieved. Plus, there's now a great number of services such as Borrow My Doggy if you are in need of a companion. We will be encouraging all of our customers to take part and share their walks on social media."
The award-winning dog food manufacturer regularly supports charitable causes including Dogs For Good, which supports people with a range of needs including physical disabilities, autism and dementia, and Pawprints to Freedom Rescue, a not-for-profit rescue for dogs that are in need of a loving home.