Natural Instinct has recalled several of its frozen raw pet food products made using duck because of the presence of salmonella.
These products, which have been sold online and by independent pet stores, are:
Working Dog Duck, 1kg and/or 2x500g
Pure Duck, 1kg and/or 2 x500g
Working Dog Puppy, 1kg and/or 2x500g
Duck Carcass, Pack of 2
Duck Necks, Pack of 6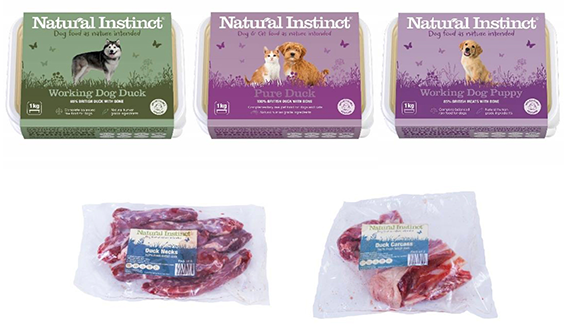 In a product recall notice the company said: "Natural Instinct takes its obligations regarding pet food safety very seriously and has therefore agreed with the Food Standards Agency to undertake a recall of the products. Natural Instinct apologises for any inconvenience caused."
Point of sale notices have been displayed in all retail stores selling the affected products. These notices explain to customers why the products are being recalled and tell them what to do if they have bought the product.
In its advice to pet owners the Food Standards Agency said: "If you have bought any of the products do not use them. Instead, return them to the store from where they were bought for a full refund.
"When handling and serving raw pet food it is always advised to clean utensils and feeding bowls thoroughly after use. Consumers should wash hands thoroughly after handling raw pet food, bowls, utensils or after contact with the faeces of animals.
"Raw pet food should be stored separately from any food (especially ready to eat foods). Care should be taken when defrosting to avoid cross contamination of foods and surfaces."
This is the third pet food recall in less than three weeks. Happy Hounds Wales Ltd recalled four types of frozen raw dog food because of the presence of salmonella and Fold Hill Foods took the precautionary action of recalling several hypoallergenic cat food products because of safety concerns over a possible link to feline pancytopenia.