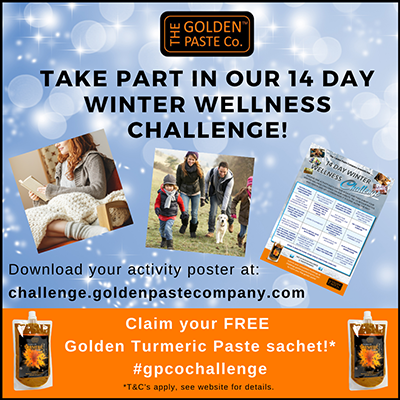 The Golden Paste Company has launched a 14-Day Winter Wellness Challenge to encourage people to look after their physical and mental health this winter.
To take part, simply download the challenge activity poster for inspiration and then, once you have completed your 14 days, submit your details online. You will then receive a free sachet of Turmeric Golden Paste for People.
Throughout the challenge, which has activities suitable for everyone in every tier, people are encouraged to share their progress on social media using the hashtag #gpcochallenge.
The company hopes the challenge will encourage people to try a new activity, experiment in the kitchen and discover new local places outdoors.
"In a difficult year this is a positive challenge that anyone can take part in and then try the Turmeric Golden Paste supplement for free," a spokesman said.
Turmeric Golden Paste for People is designed to support the body's natural anti-inflammatory mechanisms and optimise the integrity of the immune system and has anti-oxidant properties. It is easy to use by simply adding to food/drink or taking straight from a teaspoon. It is suitable for vegetarians and vegans, is bioavailable and contains 5.1% curcumin.
The Golden Paste Company, which specialises in turmeric supplements for humans, horses and pets, focuses on overall wellbeing in addition to more specific products, such as its new TurmerItch skin and coat product for horses.
The challenge is running until January 31. To take part in the 14 Day Winter Wellness Challenge visit challenge.goldenpastecompany.com