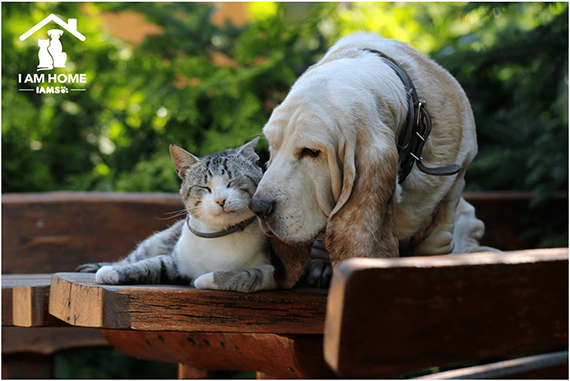 A charitable initiative started by IAMS in 2017 has seen the pet food company donate more than 5m meals to UK rescue centres.
The I AM HOME scheme donates a minimum of 1m meals each year and supports more than 60 pet rescues across the country.
The food donations have provided a lifeline for many centres struggling to cope with an increasing number of animals needing to be rehomed.
Cheshire Dogs Home was currently caring for 41 dogs at its centre, and branch manager Anna Stansfield admitted the IAMS food donations were proving invaluable.
"Our team works tirelessly to find our pets a loving and caring forever home, but it's equally important that while they are here at the centre, we keep them healthy and happy and IAMS is helping us do that," she said.
Tracy Benjamin, branch manager at Wonky Pet Rescue, added:  "Without IAMS' fantastic support, this year would have been made so difficult. Thanks to them we haven't needed to worry about food for the many animals in our care. What they do for us is beyond amazing."
IAMS veterinary training manager Kellie Ceccarelli commented: "By working closely with our charity partners we hope to raise awareness of the need for forever homes for the thousands of cats and dogs in need of love and affection. Adopting a pet can be an extremely rewarding experience and we want to celebrate that.
"Furthermore, we want to support the never-ending work carried out by rescue and rehoming centres across the country who look after these cats and dogs and help them find a loving home."
The I AM HOME programme is supported by Miracle and his adoptive family – Amanda, Tobias and Kyle Leask. Miracle was rescued from the meat trade and adopted by Amanda seven years ago. Miracle and Amanda appeared on Britain's Got Talent last year and secured a place in the final with their magic act.
In addition to supporting pets at rescue centres, IAMS has set up a dedicated I AM HOME community on Facebook, allowing pet owners to celebrate their adopted. Members share their stories while IAMS' partner charities also use the group to raise awareness of the cats and dogs still waiting to be rehomed. The group aims to educate members about pet adoption by providing advice and support for those considering rehoming a cat or dog.