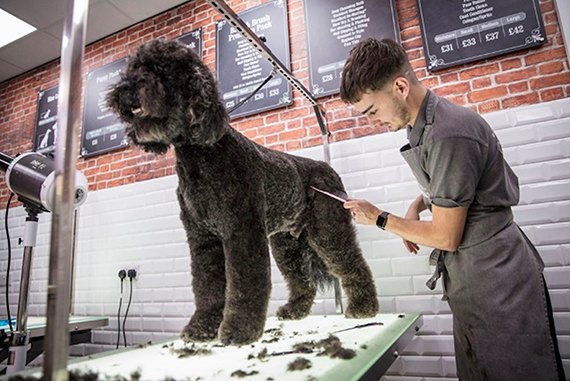 Jollyes' top northern groomer has been inundated with requests to cut the hair of owners as well as their dogs with people struggling to get a post-lockdown salon appointment.
Twenty-six-year-old Corey Lockwood is responsible for training in six of the retailer's 14 pamper and grooming spas in England and Northern Ireland.
Corey and his team carry out between 100-120 dog styling appointments each week, and since the easing of lockdown restrictions there has been a surge of human haircut inquiriers.
"The phone's been ringing off the hook since lockdown ended.  We're back-to-back with dog grooming appointments but it's clear their owners are struggling to get their own hair chopped.  To be honest, every owner who comes in is asking for their own haircut,"  said Corey.
Corey joined Jollyes' in 2018 and is a keen dog-owner and horseman. A horse-riding accident stopped him from fulfilling his ambition to become a jockey but he's building a career with Jollyes alongside the animals he loves.
Corey's well known for his doggy art. He loves the challenge of an owner who wants a specific cut for their dog – he's famous for the Mohican demanded by one Wakefield customer for their Terrier-Cross and an afro on a Cockapoo.
The average time Corey and his team spend with a dog is around 90 minutes to two hours. But when grooming for shows such as Crufts, he can spend anything up to three hours getting the dog looking pooch-perfect.
Customers travel as far as Manchester to get an appointment with Corey, who has been described as the Nicky Clarke of the M62.
"Some owners have tried to get scissor-happy themselves during lockdown but secretly they know there's no substitute for a professional," he said.
"We can see that loads of people have got a dog for the first-time during lockdown which means we're now offering advice to new dog owners as to how to really maintain healthy grooming habits."
Grooming Spas can be found at Jollyes stores in Bedford, Belfast, Cannock, Dartford, Eccles, Gosport, Halifax, Ilkeston, Newry, Skegness, Stevenage, St Helens, Tonbridge and Corey's home store at Wakefield.
Jollyes is also actively recruiting for dog groomers to join its team – with vacancies in Bedford, Gosport and Skegness.