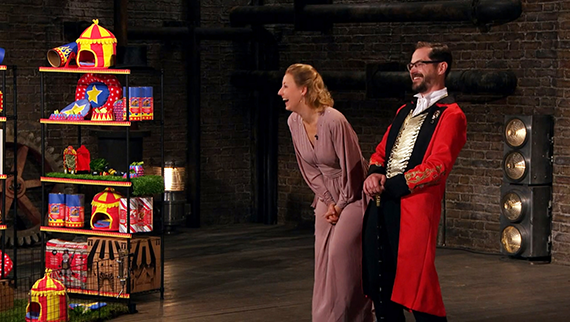 Fresh from their appearance on TV's 'Dragons' Den', the husband and wife team behind circus-themed guinea pig accessories brand HayPigs! were full of praise for the experience and grateful for the support they have received.
"Well, that was fun!" said Rik, co-founder and self-appointed 'Ringmaster'. "Thank you to everyone for their wonderful words of encouragement and support. Appearing on 'Dragons' Den' was certainly an incredible experience and we genuinely enjoyed it (believe it or not)."
Reflecting on her own experiences, co-founder Helen said: "We had some incredibly positive feedback from the Dragons and are already well on the way to meeting our goals for this year. We will continue to champion the welfare and enrichment needs of guinea pigs and create products we know our followers and their piggies will all love."
Dressed as Mr & Mrs P.T. Barnum (of 'The Greatest Showman' fame) and with a guinea pig under one arm, Rik and Helen made a memorable entrance to the Den. Their bright and colourful products certainly got the Dragons' attention.
There was some confusion beforehand, however, as pre-entrance footage showed the Dragons trying to guess the animal in front of them.
"We can't quite believe they all thought they were hamsters," said Helen. "I appreciate they were socially distanced, but seriously! It goes to show, our welfare and enrichment messages are really important, shinning a spotlight on these beautiful and charismatic creatures is what we do best."
EXPAND
Rik & Helen pitched for a £60K investment in return for a 10% stake in their business. They were looking to expand into the US and migrate their website. But despite their best efforts, the sartorially splendid entrepreneurs left the Den without an investment offer.
In the post-show interview, Rik said: "We think it's a little bit rich that the Dragons' call us up on our numbers when Peter Jones can't remember how many guinea pigs he's actually had!
"It's true", said Rik, "Peter couldn't remember if he'd had guinea pigs. I had to point him in the direction of the fun facts on his own website, where it says he's had two!"
Viewers can catch up on the episode, Series 18, Episode 5, on BBC iPlayer.
Rik & Helen Cridland live in Chelmsford, Essex but grew up on the North West coast. They have a daughter, seven rescue guinea pigs, a border collie and a new baby on the way.
Up until last year, they juggled HayPigs! alongside full-time work and two other businesses. They have re-invested all their profits to grow the business.
Prior to launch, the entrepreneurs ordered 18,000 products before they'd sold a single one! Their bold gamble paid off and they have enjoyed year on year growth.
Now a multi-award-winning business, HayPigs! has a growing Amazon business and online store, haypigs.com. They are also listed online with Pets at Home and Fetch (Ocado).