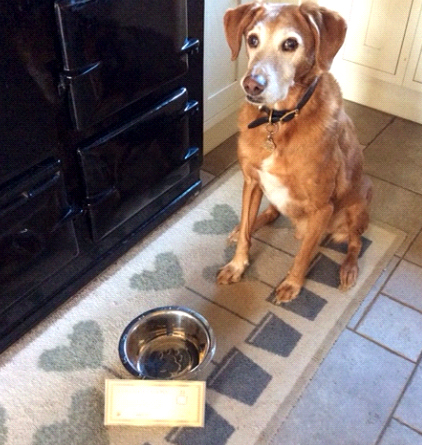 Burns Pet Nutrition is giving dog owners across the UK the chance to win a year's supply of free dog food, in celebration of its 25th anniversary – and there are still 18 tickets to be found.
To mark the milestone, the family firm has released limited-edition vintage look bags, with 25 winning golden tickets hidden inside.
Lucky owners who find one of the golden tickets will bag themselves a 12-month supply
of Burns Pet food, meaning breakfast, lunch and dinner will all be on the house!
Two Oxfordshire dogs and one from Leicestershire have already bagged themselves golden tickets.
Thirteen-year-old Labrador red setter cross Milo, from Saxelbye, near Melton Mowbray, is the latest winner of the competition. Owner Helen Murphy was delighted to find the golden ticket inside his latest bag of Burns while preparing Milo's evening meal.
"We are very happy to have won a golden ticket," she said. "Milo is a rescue dog from East Midlands Dog Rescue. He is a gentle faithful dog that my late husband doted on and he has been a source of great comfort to me since my husband's sudden, unexpected death seven years ago."

GREAT NEWS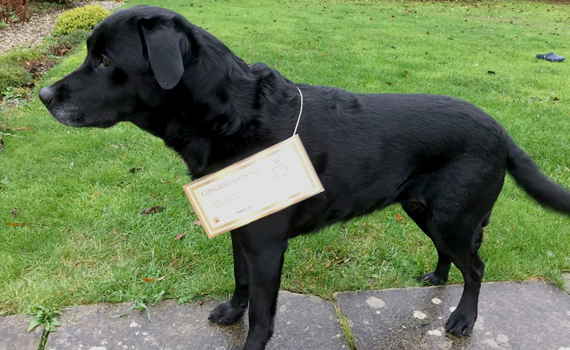 Milo joins nine-year-old Labrador, Teal, from Oxford, who has also found a golden ticket.
Owner Claire Vickers said: "We are thrilled to have found a Golden Ticket. Teal has only ever been fed on Burns food and we wouldn't use anything else, so this is great news."
Four-year-old border collie Jasper, from Didcot, Oxfordshire, was one of the first golden ticket winners and his owner, Libby Mulvey, plans to spend the money she will save on pet food on Jasper.
"Jasper has been on Burns ever since he was a puppy and absolutely loves the food," she said. "He wolfs down his dinner every day so it's great news for both of us that we got a golden ticket! As Jasper is very toy orientated, the money saved over the next year will be spent on getting him some more doggy accessories he'll love."
Eighteen golden tickets are yet to be found across the UK, with the campaign due to run until all tickets are discovered.
The winning tickets are hidden in promotional bags of Burns Original Chicken & Brown rice variety.
In addition to launching the competition, Burns has also given a quarter of all profits to charity over the last financial year to celebrate the significant business anniversary.