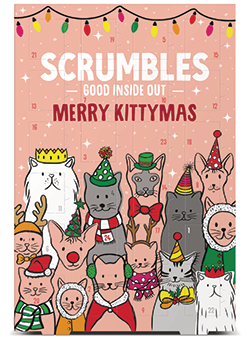 Riding on the wave of pet humanisation, gut-friendly pet food company Scrumbles is bringing out its own advent calendars for cats and dogs.
The calendars each contain at least 48 mini treats hidden behind 24 little windows. The treats are made in the UK and Ireland from responsibly sourced ingredients and also boast added benefits such as support for dental care or digestive sensitivities.
The cat advent calendar 'Merry Kittymas' contains a mix of Scrumbles' Chicken Biscuits and Gnashers Dental Bites, while the canine version 'Happy Howlidays' includes Scrumbles' Gnashers Dog Dental Bones and Nibbles: Calming Dog Treats.
The calendars retail at £7 and Scrumbles says: "With pets of today used to indulging in just about every activity and tradition that we humans do, it's only fair that they also get their own Advent Calendar this year. Especially as they definitely cannot indulge in one of your chocolate-y treats!"