The Mayor of Mold, Cllr Karen Hodgkinson, and her husband Ian, joined Cal and Stephen for the official opening of Tails-a Waggin early last year
Stephen and Carolyn Jebb moved from school support into pet retailing and dog grooming. They haven't looked back…despite a first 18 months filled with changes and challenges, as they reveal to Justine Thompson
Stephen and Carolyn Jebb were both happily working as support technicians in a school when a chance glance at an advert changed the whole course of their working lives.
The couple had moved to North Wales a few years earlier and thought they had their career paths mapped out. But they loved animals and after settling in the beautiful and traditional market town of Mold began frequenting the local pet shop in the High Street for their supplies.
"It was a friendly sort of a shop, but we didn't think that much about it until one day Cal (Carolyn) spotted an advert saying it was for sale," explained Stephen.
"Cal said she quite fancied the idea and began looking into it. We also had a few conversations with the shop owners, who were retiring, and soon what started as just a thought had turned into a full-on project to buy the shop!"
The previous owners of 'Tails-a-Waggin' shut up their business at the end of April 2018 but there was lots of red tape and legalities to be got through and it wasn't until November of that year that Stephen and Cal finally got the keys.
At this stage Stephen was still working at the school and the shop was Cal's domain.  When they got into the premises, they soon realised it needed an entire renovation from top to bottom and had to roll up their sleeves and get to work.
Things like carpets tiles covering the floors had to come up and somewhat tired shelving and stock was removed. They also painted the place from top to bottom and freshened everything up. "We were even working until 9pm on New Year's Eve and we finally got to open the doors on January 4 lastyear. But everyone was very impressed with what we'd done so it was definitely worth it," said Stephen.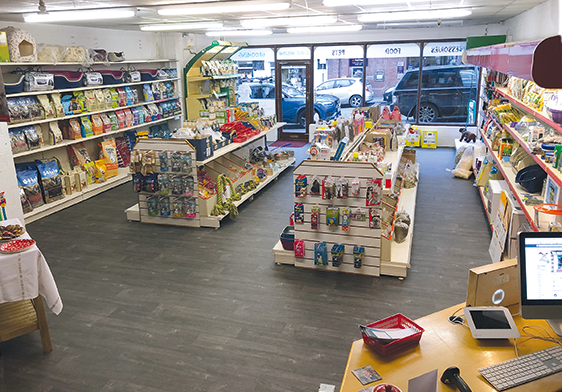 Cal and Stephen worked long hours to bring the interior of the premises right up to date, with plenty of space for customers to bring their pets in too!
They also realised they also needed to do something with the little building at the rear of the premises, which the previous owners had sub-let to a dog groomer and began to think they would do the same thing.
Then Cal, who had also spent nine years as a veterinary nurse, met up with an old vet nurse colleague who was now a dog groomer…and she got yet another gem of an idea. The colleague suggested that instead of hiring the rear venue to a dog groomer Cal should train as a dog groomer herself – and she jumped at the suggestion.
Husband Stephen said: "Cal's friend said it would be a great idea for bringing in some extra income and it sounded good – but as I said to Cal…who was going to manage the shop while she was doing the City & Guilds training and then grooming?!"
There was nothing for it but for both of them to be committed to the shop, with Stephen giving up his paid employment to look after things while Cal was training, and then as she began to build up custom for the soon-to-be-busy grooming salon.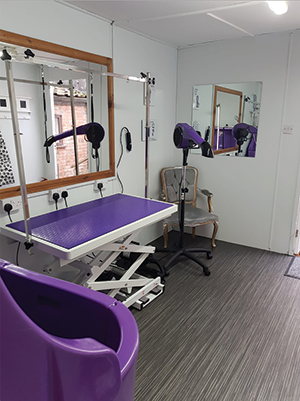 The couple set up a grooming salon at the rear
It was a big leap but one they have never yet looked back on. "I did have a few moments of doubt, but not many. The worst one was when Cal first went off to do her grooming training and I thought 'my goodness, what if she hates it?' "But she came home and it was clear she simply loved it. She said, 'I'm so happy I can't believe I'm going to get paid to look after other people's dogs' and she hasn't looked back."
With the shop being shut for the best part of nine months the couple had to work hard to rebuild business, taking to social media and enticing customers in with loyalty offers. It was a slow burn but over the months the regulars began to return along with newcomers who had spotted the shop on its prominent High Street location.
Stocking the shop was something that required a lot of thought but they had great help from Bestpets wholesalers in Manchester, where they were taken on a tour of the warehouse and were amazed by the number of products and dog foods on offer.
They also visited the PATS trade show for two years running and were able to talk to exhibitors about brands and get ideas for what to stock and the best way to display items, which they found extremely helpful.
CHANGE OF FOCUS
Stephen explained that initially they had intended to stock small animals and fish but, after visiting PATS and speaking to experts there, realised they would be better utilising the space as a 'doggy dressing room' to display all the leads, coats and other accessories to best effect. Canine products are about 50% of their business but other product sectors include cat, small animals and fish and a specialist reptile section.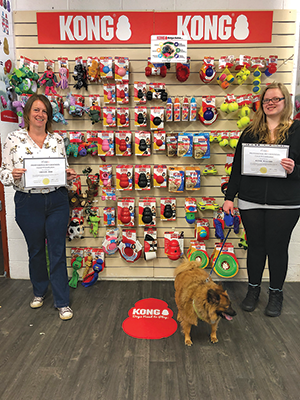 Following the outbreak of the pandemic, Cal and Alisha undertook special training to achieve covid-19 groomers' compliance certificates
They also like to ask customers for suggestions of what to stock and have several new lines from this, and have recently begun stocking Welsh-made food Pero to fly the flag for Wales: "We go for good quality, not the cheapest and not the most expensive – it's the quality and good ingredients that counts," explained Stephen. The shop was beginning to build up clientele and hit financial targets and they took on a grooming and shop assistant, Alisha Williams, to help them out. All was going so well…and then along came coronavirus.
"It was a shock, as it was to everyone. We'd only been in business a year but as a small town shop we took the decision to close because we didn't want to catch coronavirus and we didn't want to be responsible for spreading it to anyone else."
With typical determination, however, they refused to be bowed down, and took telephone orders to make home deliveries and support customers in lockdown. They also utilised all the government support they were entitled to in order to keep the business afloat, including loans, grants and rates relief.
"We always had the long haul in mind with this shop so we knew we just had to buckle down and get on with it," said Stephen "and we have changed the way we do some things now, for example I do a delivery service two afternoons a week which wasn't an official option before."
The shop reopened fully at the end of June when the grooming salon was also allowed to resume – a great relief to Cal's many loyal customers whose canine companions needed a haircut as much as they did!
The Town Council has also been very supportive to local businesses as they come out of lockdown and has started a 'Totally Mold' gift voucher scheme to encourage people to spend locally.
Stephen said: "We feel things are heading in the right direction again now. Of course, it will take a while to get back to where we were and things may not be the same. But there will be a 'new normal' and we are enjoying spending time talking to people and being an essential part of the community we live in once more."